BIG SUMMER FRIENDS & FAMILY DISCOUNT – SAVE BIG !!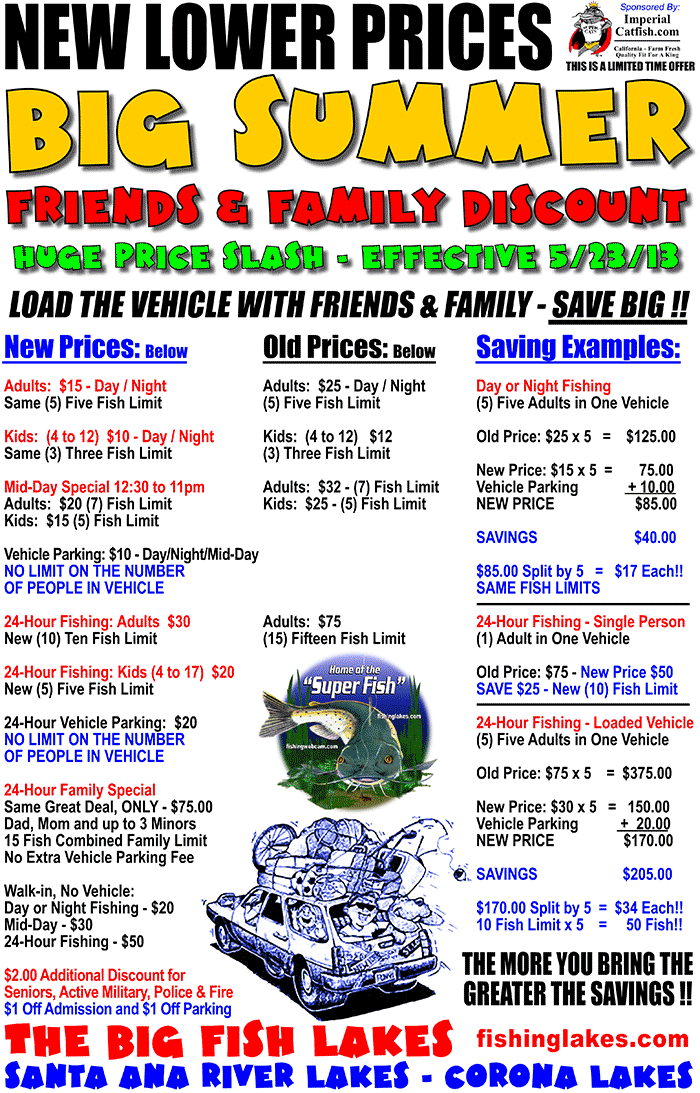 We understand that times are tough out there for many families in this difficult economy, but we feel fishing and Family Fun, is like America and Apple Pie.
So we decided to give back and try to help all of our wonderful customers that have supported the Lakes for so many enjoyable years by finding a way to make GREAT fishing a lot more affordable for many more friends and families.
Fortunately, because of the Lake's Larger Partnership with Imperial Catfish, it is now possible for us to SLASH our Admission Prices for a Summer like NEVER BEFORE, and SAVE YOU, YOUR FRIENDS & FAMILY A LOT OF MONEY.  
NO LAKE(S) in California will be stocked with as many MONSTER SIZE CHANNEL CATS and EXCLUSIVE HUGE BLUE CATFISH as often as Santa Ana River Lakes and Corona Lake…. AND THAT'S A FACT!! That's one of the benefits of OWNING the Largest Catfish Farm in California!! And wait till you see the Video we are about to shoot of all the HUGE CATS on the Farm. We will catch a bunch FROM THE SPECIAL MONSTER PONDS and might even do some Hillbilly Hand Fishing and wrestle up a few HOGS for the camera.
HERE IS THE DEAL… It's SIMPLE, just invite your Friends and Family to come fishing with you and load up your vehicle. The more friends and family you bring fishing, the greater the combined savings will be. AND, THERE IS NO LIMIT ON THE NUMER OF PEOPLE PER VEHICLE. RV, TRUCK, CAR, CAMPER, TRAILER, ETC.