4/14/16 FIRST MAJOR CATFISH STOCKING THIS SEASON – SANTA ANA RIVER LAKES
Thank you for your continued support, see you soon!!

1/31/15 Mario Hernandez caught a 21 pound 8 ounce Suuuperrr Trooout at Corona Lake
THE

SECOND LARGEST TROUT

CAUGHT AT ANY LAKE IN SOUTHERN CALIFORNIA SO FAR THIS SEASON WAS CAUGHT AT

CORONA LAKE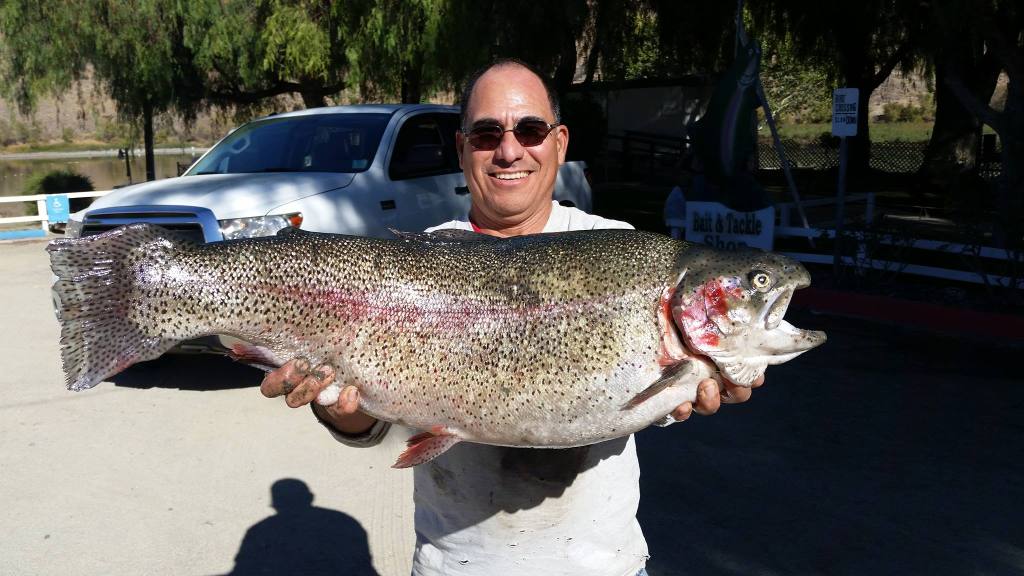 11/28/14 Steven Amador of La Puente caught a 20 pound Suuuperrr Trooout at Corona Lake
MORE BIGGER TROUT WILL BE CAUGHT
NO OTHER LAKE OR LAKES CAN COME CLOSE
WE ARE THE BIG FISH LAKES !!
NEW Fair Stocking Policy – Big Trout for Everyone!!
New stocking policy for the 2014/2015 Trout Season
Santa Ana River Lakes and Corona Lake has always stocked more big fish than any other lakes. However, year after year, many trout, including some of the biggest, are quickly caught right next to the stocking areas. We want to change this so everyone (and not just

…

a few) gets the opportunity of having fun and catching the "trophy of a lifetime."
This Trout Season, we will be stocking every Thursday morning. However, we will be CLOSED for Day and Night Fishing on Thursdays. We have decided to sacrifice one whole day of business to give the freshly stocked trout a sporting chance to better acclimate to the lake water without any fishing pressure. This will give the trout 24 hours to migrate away from the stocking areas and evenly populate the Lake, giving everyone a better opportunity at catching them on the weekends and throughout the week.
We know you are serious about your fishing, and we are just as serious about providing you with the best value and opportunity for your fishing dollar. We will continue providing stocking videos every week, and if anybody wants to watch the trout stockings on Thursdays, they are more than welcome, just leave your fishing pole at home.
Santa Ana River Lakes will be full with water all season long and will be open for Day and Night Fishing every day, except Thursday.

Corona Lake (due to the drought and low water conditions) will only be open Friday, Saturday and Sunday for Day and Night Fishing and closed for the rest of the week, until the Lake gets more water. We plan on stocking Corona Lake with trout as long as we can determine that it is safe to do so.
We will be making our announcement very soon as to when we will begin stocking trout at SARL along with our Trout Opener and all the other exciting events and tournaments coming this season.
We believe these changes will make this one of the BEST FISHING Trout Seasons EVER, for EVERYONE!!
Thank you for all your tremendous support!
CURRENT CORONA LAKE INFO:
NOW STOCKING TROUT AT CORONA LAKE.
We started stocking trout at Corona Lake Thurs. Nov 20th. and currently stocking trout at Corona Lake every Thursday.
1. Due to the drought and the smaller sized Corona Lake, we are forced to make some temporary changes in Corona Lake usage, days open, and boat restrictions.

First we will be open for day and night fishing on Friday through and including Tuesday. We will be closed Wednesday and Thursday at Corona Lake.
2. Due to the drought and the smaller Corona Lake size, there will be shore fishing only, on both sides of Corona Lake. There will be no Private Boats allowed, no rental motor boats, no row boats and no float tubes allowed on the Lake. This will make fishing more enjoyable for everyone.
3. There will be no 24 hour monthly, moon light fishing until Corona Lake returns to normal water levels.
For Planning purposes, remember, we are always closed at 2pm on the day before Thanksgiving and Christmas and all day for Thanksgiving and Christmas.
We will keep you informed and be sure to check our web site fishinglakes.com for up to date information.
For complete details on all our promotions and special events, please visit our Web Site, fishinglakes.com. To contact the bait shop, click Contact Us on the web site for the telephone number. That's fishinglakes.com
Don't miss any of our great fishing events, our promotions, our camping, Bar B Q under the stars and just plain relaxing and enjoying the great outdoors. DON'T MISS OUT, BE THERE!!!
No fishing license is required to fish our Lakes. And here's some good news. We have some new lower gate admission fees, here's the details:
The fee for day or night fishing is only $23.00 and each Fisherman gets a 5 fish limit. The afternoon session, from 12:30pm to 11:00pm, is only $28.00 and each Fisherman gets a 7 fish limit. Children 12 and under pay just $11.00 and get a 3 fish limit; no additional discounts apply to the Child's $11.00 gate admission. There is a senior discount for fishermen 62 and older; its $2.00 off the regular gate admission for day, night, afternoon session or 24 hour fishing. Only one discount is allowed for each admission, no multiple discounts are allowed.
We stock the Lake at least one time every week throughout the year. Additional stocking is done for special events like tournaments and grand openings. There are no secrets in our stocking programs; we video each and every stocking event and post that stocking the next day on our web site.
Photos of the Fishermen's catches are posted instantly our website www.fishinglakes.com This gives you an immediate indication of the fishermen's success and what is being caught.