23 POUND CATFISH CAUGHT AT SANTA ANA RIVER LAKES
Rick Kizzee of Los Angeles caught & released a 23 pound catfish, he also landed a 10 pound 7 ounce cat using chicken livers fishing in the Catfish Lake.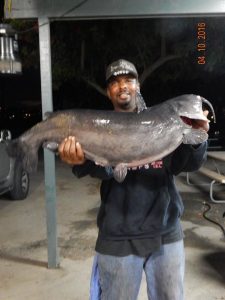 Morris Suliff of Garden Grove caught 5 catfish totaling 33 pound 8 ounces, his largest was 12 pounds using a silver Needle fish trolling in the Big Lake from a boat.  Kyle Gracey of Long Beach caught a 12 pound trout using a white Drew Customs bait fishing at the boat dock.  Justine Chevalier of Fullerton caught 6 catfish totaling 34 pounds using shrimp from a float tube by "The Road".