22 POUND TROUT LANDED AT SANTA ANA RIVER LAKES
Moses & Saul Villagomez (father & son) of L.A. checked in a monster 22 pound 12 ounce SUPER TROUT. The father was using a green/white Power mouse tail fishing at the Pump House in the Big Lake. This is the biggest trout landed so far this season.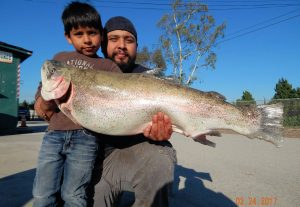 Santiago Palacios of W. Covina caught 3 trout, a 9 pounder, 8 pounder and a 4 pounder fishing with night crawlers at the Bubble Hole.
Judith Macias of L.A. weighed in a 7 pound trout using blue PowerBait, kicking around with her float tube in the Big Lake.
Moses Badilla of Santa Ana checked in a 6 pound 8 ounce trout using a night crawler at the Boat Dock.
Bill Wright of Anaheim landed a 5 pound trout using green PowerBait fishing at Levitz corner.
Our first stocking of Lighting trout will be Thurs. March 16.