CATFISH & TILAPIA ARE ON THE CHEW AT SANTA ANA RIVER LAKES
Santiago Palacio of West Covina fished the regular day session, then did a turn around overnight 24 hour session and ended up with 14 big tilapia totaling 27 pounds.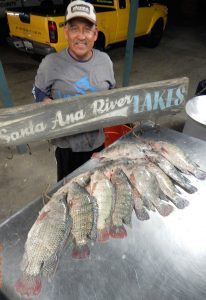 Santiago's largest tilapia weighed in at 3 pounds 2 ounces using nightcrawlers at the Boat Dock.  Jose Rivera of Rialto caught 4 big catfish totaling 14 pounds, his largest was 6 pounds 8 ounces using shrimp & mackerel at the Bubble Hole.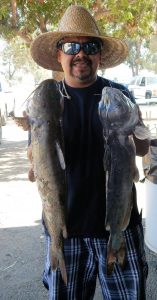 Khole & Michael Kraskouskas of Orange caught 14 fish, a mixture of catfish & tilapia totaling 25 pounds using nightcrawlers at Levitz corner.