Santa
Ana River Lakes aka "heaviest stocked lakes around" kicked off trout season with a bang !  We really loaded up the lakes to get this trout season off on a great start. This is just the beginning, the big boys are coming for our Thanksgiving Super Weekend.  We have pages and pages filled with angler catch information.  Here are a few highlights of the many recent catches.
Family members Tean & Lam Khensovan of Longo each/both caught a 10 pound 8 ounce trout using Chartreuse PowerBait and a mini jig fishing at the Boat Dock. wow !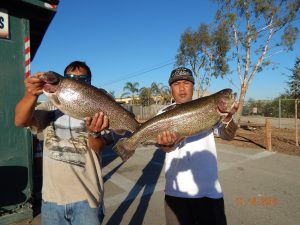 Noel Manarraz of L.A. caught a 9 pound 8 ounce trout, 6 pound 8 ounce trout and a 5 pound trout using PowerBait at Levitz corner.
Tiffany Galvon of Garden Grove caught 5 trout totaling 18 pound 11 ounces. Her largest trout weighed in at 7 pounds 10 ounces fishing at Sandy Beach using nightcrawlers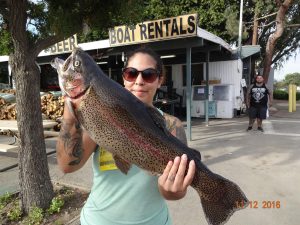 Patrick Gray of La Verne caught 4 trout totaling 13 pounds 8 ounces, his largest trout 8 pounds 11 ounces fishing at the cove near the Pump House using Red/Blue/Green PowerBait.
Santiago Palacious of West Covina caught 6 trout totaling 23 pounds 12 ounces, his 2 big ones weighed at 8 pounds and 6 pounds. Santiago was using nightcrawlers and white PowerBait at Levitz corner.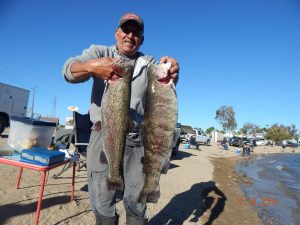 Patrick Sullivan of Tustin caught 5 trout totaling 16 pounds 8 ounces, his largest was 4 pounds 1 ounce using Trout King mini jigs fishing at the Pump House.
Jason Hirsch of Rancho caught a 7 pound 8 ounce trout using a salmon egg also at the Pump House cove.