Lake Information
ATTENTION: No private motor boat launches are allowed at Corona Lake until further notice.
DAY & NIGHT FISHING – NO LICENSE REQUIRED
CURRENT CORONA LAKE INFO:
NOW STOCKING TROUT AT CORONA LAKE.
We started stocking trout at Corona Lake Thurs. Nov 20th. and currently stocking trout at Corona Lake every Thursday. 
1. Due to the drought and the smaller sized Corona Lake, we are forced to make some temporary changes in Corona Lake usage, days open, and boat restrictions. First

we will be open for day and night fishing on Friday through and including Tuesday

.  We will be closed Wednesday and Thursday at Corona Lake.

 2. Due to the drought and the smaller Corona Lake size, there will be shore fishing only, on both sides of Corona Lake. There will be no Private Boats allowed, no rental motor boats, no row boats and no float tubes allowed on the Lake. This will make fishing more enjoyable for everyone.
3. There will be no 24 hour monthly, moon light fishing until Corona Lake returns to normal water levels.
For Planning purposes, remember, we are always closed at 2pm on the day before Thanksgiving and Christmas and all day for Thanksgiving and Christmas.
We will keep you informed and be sure to check our web site fishinglakes.com for up to date information.
DAY, MID-DAY & NIGHT FISHING.

CORONA LAKE CLOSED: WED. & THURS.
Day fishing session 6am to 4pm
Mid Day fishing session 12:30pm 11pm
Night fishing session 5pm to 11pm
EFFECTIVE  11/7/14  – MOTOR BOAT RENTALS WILL NOT BE AVAILABLE UNTIL FURTHER NOTICE.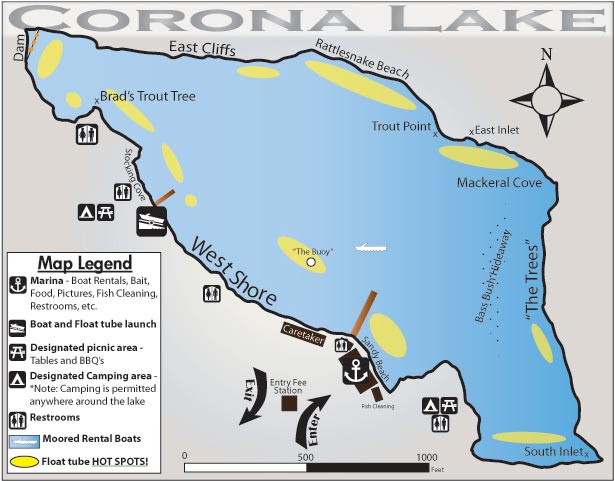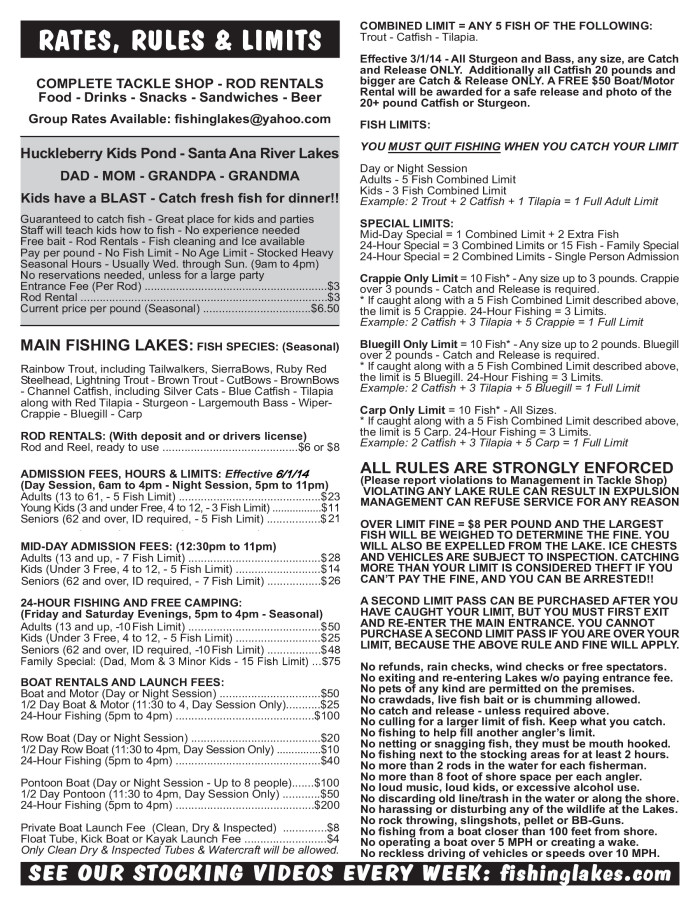 BOAT RENTAL AVAILABILITY IS FIRST COME FIRST SERVE