Sometimes, a picture can say a thousand words…this is one of those times. The picture below came Thursday via text from my friend Matt: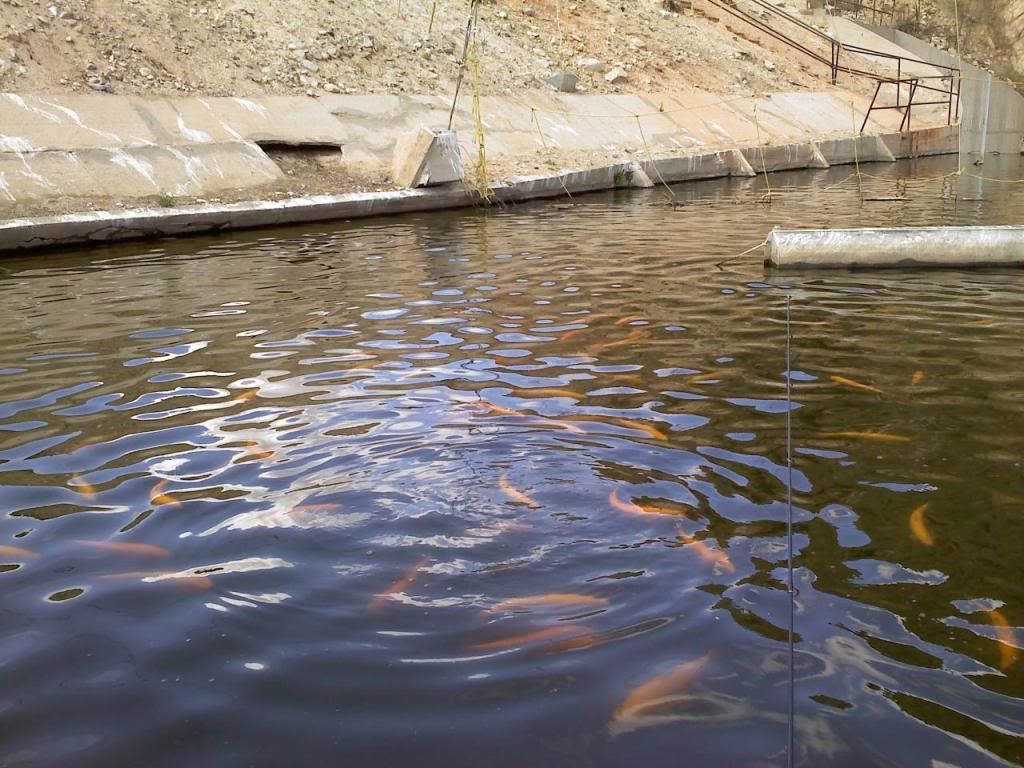 I was sitting in my office when that gem came through. Talk about having a hard time finishing out your day at work knowing your buddies are sitting on that!
Of my friends on the water, every single one of them had the same story from Thursday…"Wide open…", "Looked like a koi pond", "Followers on every cast!". Maybe this isn't always the case but the people out there last Thursday took the "fish don't hit on stocking days" rumor and went Mythbusters on it…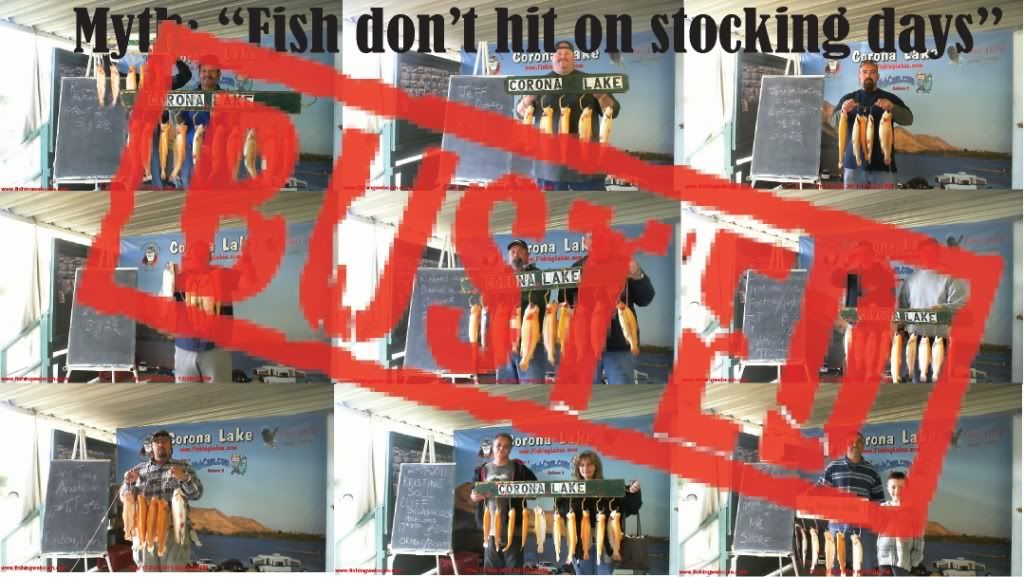 So a Friday fishing session was a must but I had a meeting Friday morning that I'd have to work into my schedule. Thus, I had to resort to good ol' fisherman's logic…You guys and gals know exactly what I'm talking about…Those times you say to yourself, "(Part 1) Ok, if I get up at 4, I can get down there and be near the front of the line. I'll be on the water by 6:05 so LOTS of time to fish. (Part 2) After I'm done I'll change into something presentable at the lake and I'll be at my meeting in plenty of time. (Part 3) I'll then wow my colleagues, leave the meeting with a raise, and go home to my wife who will be floored by my masculinity and amazing time management skills."
Ummm….well…"fisherman's logic" and "reality" don't often coexist…
Part 1: Woke up at 6:30…DOH! Stupid alarm! Threw on my clothes, kissed the dogs and the wife goodbye (in that order), ran down the stairs, poured a steamy liter of joe into my "coffee keg", scooped up my lunch, jumped into the car, and WOOSH…out the door!
Part 2: Made it to the lake to find a somewhat crowded shoreline and a smattering of boats and float tubes in the water. Inflated the "Lightning Trout Camouflage" colored Super Fat Cat and launched into a gentle breeze and overcast skies. With only 2 hours to fish before I had to run to work, I refused to waste time kicking across the lake so decided early on not to stray far from the boat launch.
The fishing was on fire all the way from the courtesy dock to the dam. For those wanting something more specific, the green line shows where I spent my limited time…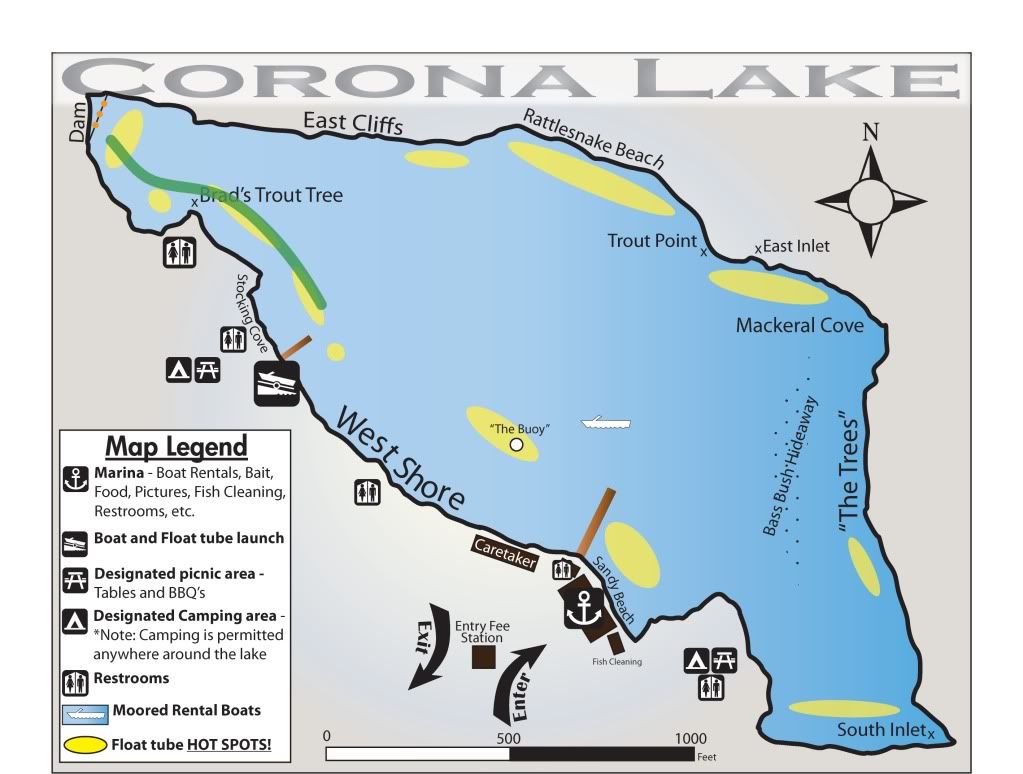 Left the sonar and most of my tackle box on shore. My on-board arsenal consisted of a handful of various trout worms, garlic grease, and a few chartreuse and chartreuse/orange 1/32 oz. minijigs. Turned out that was all that I needed. Any of those options worked. Quick retrieve, slow retrieve, lots of taps, only a few taps. It didn't matter. I really like fishing the minijig as it's quick and easy so spent most of my time throwing that. As you've read in other people's threads, truly amazing fishing on Friday with fish chewing the paint off of almost anything you wanted to put in the water.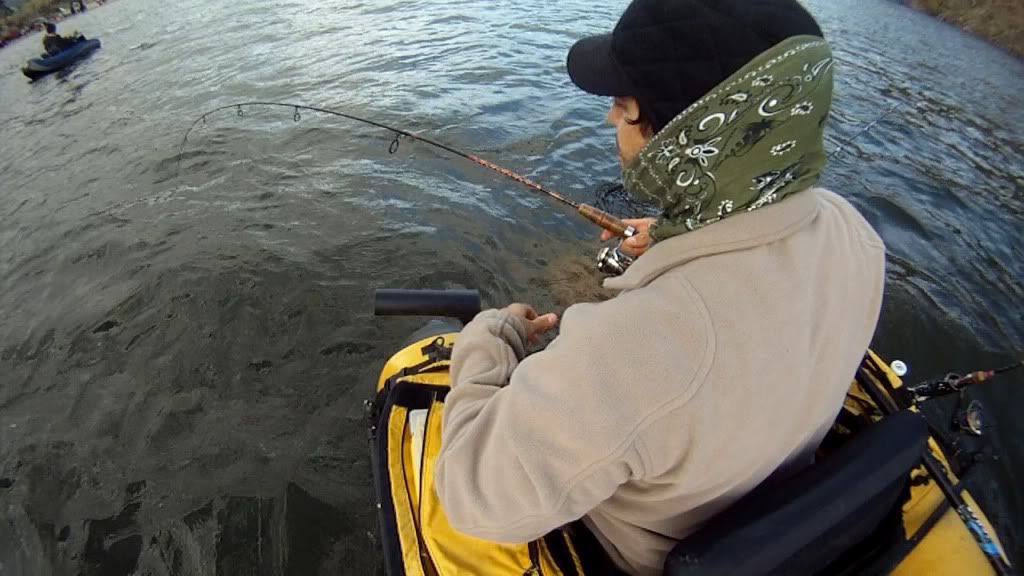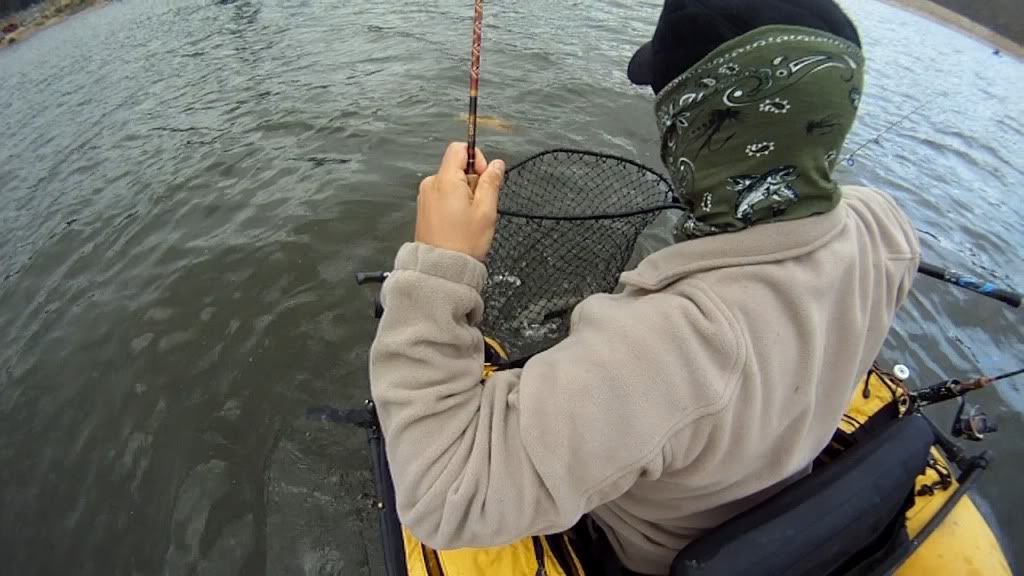 Can you spot the 2 fish in the picture above??? 🙂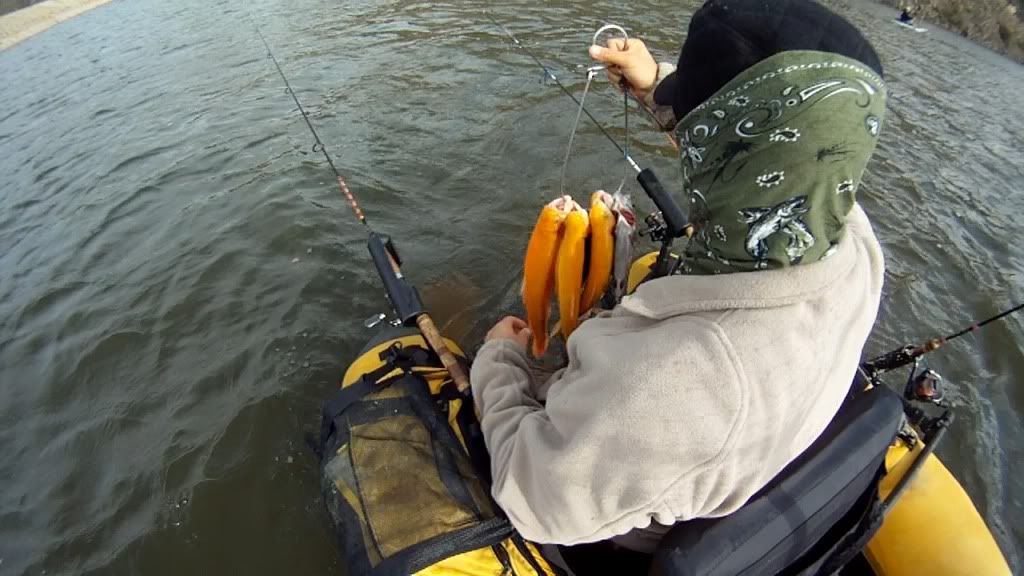 (Above) Color coordination of my fish and my tube!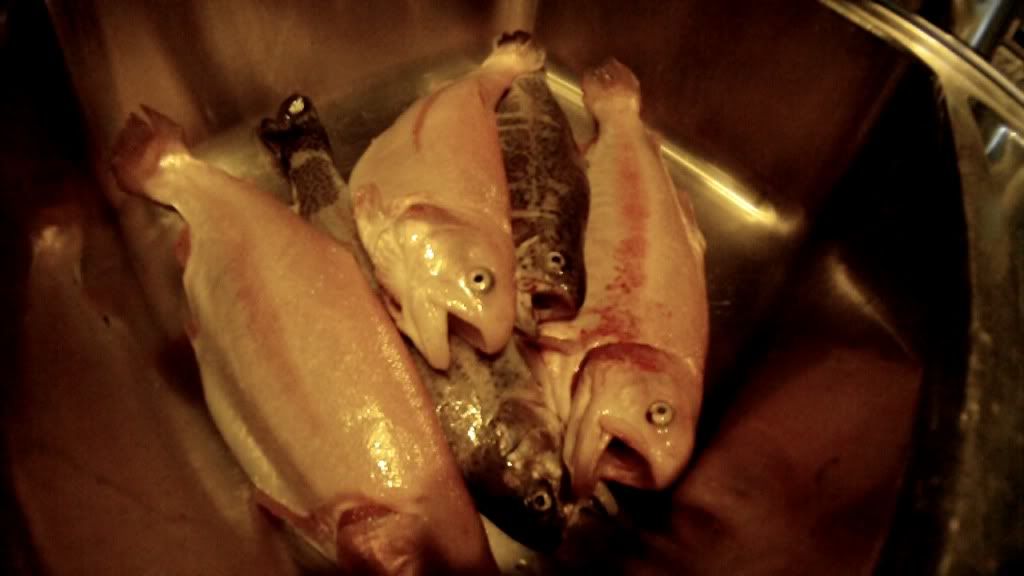 Word on the street was that there was lots of action on the other side of the lake by Rattlesnake Beach and the East Inlet, but no time to find out for myself…on to part 3 of this drama.
Part 3: After piling all of my gear into the back of the toaster wagon (Scion xB), I changed my clothes on the shoreline, hurrying to put on my jeans and shirt, rushing to lace up my shoes, and quickly exchanging my fishing cap and face shield for what I thought was a neatly combed "hairdo", professionally assembled by running my fingers through my disheveled mane a few times.
What I haven't told you up to this point is that my waders have a small leak right in the crotch. This is NORMALLY not a problem as I only get an occassional splashing above the knees in the Super Fat Cat. You'll see why this fun fact is important to "Part 3″ in a moment…
I show up to work with about 15 minutes to spare before my meeting. I see some of my colleagues in the hallway and we exchange pleasantries. I decide to hit the restroom one last time before our discussion and GOOD GRIEF…
While washing my hands, I noticed that I felt a bit cool below the belt. "Are my pants wet?" I think to myself. Like a 4 year old that "just made a boo boo", I strike an awkward, bowlegged, crotch staring pose and sure enough…My long ignored wader leak struck back. My thermals were dry enough to escape my detection and yet were just wet enough that they soaked my jeans, specifically in the crotch region, THOROUGHLY. Seeing the darkened area in my denim I immediately start thinking of how I am going to explain a wet crotch to my coworkers without mentioning how good the fishing was ½ hour ago. I look up at myself in the mirror in utter disbelief…and yup, more surprises. This time in the form of GLITTER. In the mirror I saw that below what was NOT a neatly combed hairdo but rather a frizzy, wavy mess of greasy hair, there was glitter above my eye, glitter below my nose, glitter on my ear…oh boy. I've got exactly 3 minutes for a sink bath and a bathroom dry cleaning and I better HOPE that no one comes in while this is going down…Did I mention that my hands wreaked of trout?
Stick my face in the sink, lose the glitter and lose the frizzy fro. Soap up the hands and lose the lightning stink. Run back to my office and grab a long jacket and lose the possibility of "Did you pee your pants" questioning. With streams of sweat saturating the t'shirt under my thick jacket and the dampness of my jeans sprawling from its origin in my crotch, I managed to get through my meeting without any mention of how ridiculous I looked. Mission Accomplished!!! But I can just imagine what people said after our meeting dispersed…"Did you see Aaron's jeans? I'm pretty sure he pee'd himself. I told him to cut back on the coffee." "Yeah, but did you notice the glitter and his hair?! I'm thinking last night must have been awesome!"
Sometimes the best laid plans don't seem to go down the way we intend them to. In fact, they rarely do ESPECIALLY when cramming in a few minutes on the water means juggling a bunch of life's other "stuff". BUT, bottom line, I got to go fishing and I HAD A BLAST!! Over the years I've learned that one of the hardest and most important aspects of fishing is simply finding the time and the means to get out there. But the cliché "when there is a will, there is a way" rings SO true with fishing. Have the will, find the way, and life seems to work itself out. For me, "life working itself out" means that people at work may think that I pee my pants, but oh well, I guess everything has its price…
2/19/11- Voyeurism via Kayak
It rained HARD the night of 2/18/11. Driving rain and wind all night long. I knew there had to be at least a few diehards out at Corona taking advantage of the 24 hour fishing being offered over the weekend and I couldn't help but shiver a bit for them while watching tv in my cozy bed.
Waking up the next morning, I found the sun shining and only scattered clouds cresting the Santa Rosa Plateau. Great news! I had to take a kayak to Orange County and the decent weather meant that I could soak it in Corona Lake for an hour or so, see what people were up to, see how the lake looked so I could share the info with you guys, load things up and be on my way! So that's what I did!!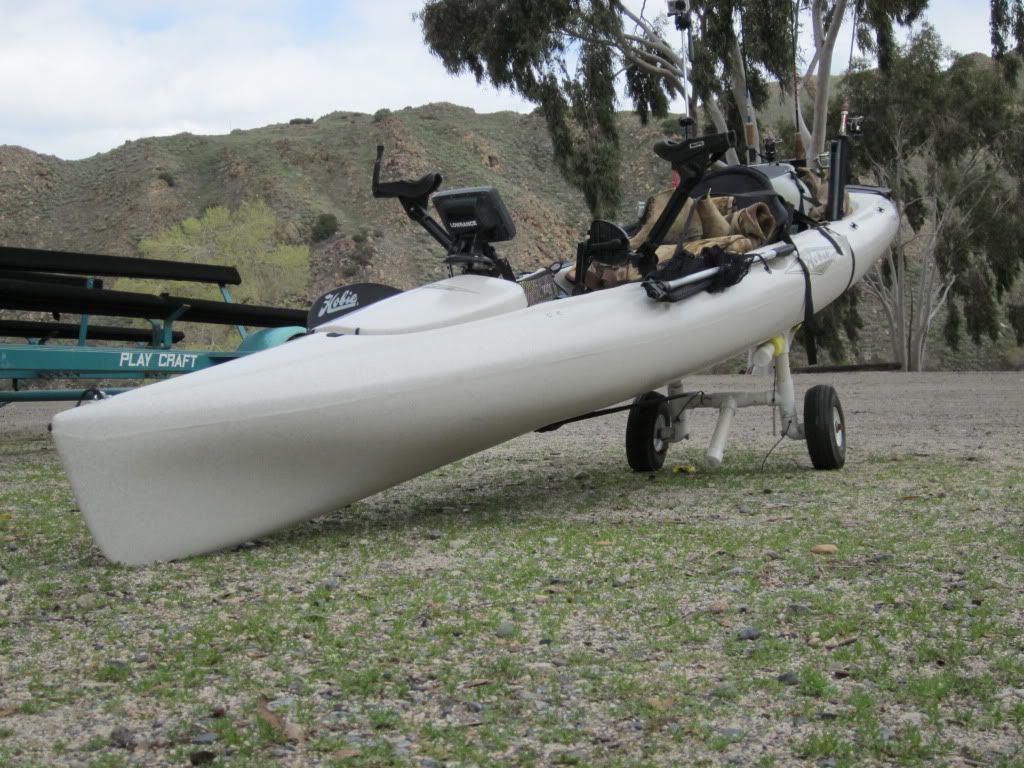 Upon arriving at the lake I saw that the rain had definitely affected the water quality but in a non-uniform kind of way…
Sorry for the low image quality as that is a video still, but what I've highlighted there is the reason that the shore anglers did not do nearly as well on Saturday as the people in boats and float tubes following the heavy rain. A creeping "murk" extended anywhere from 50-100 feet from the shoreline leaving most shore anglers no other option but to fish in it. The areas down by the inlets were hit hardest as sediment laden water came into the lake from the south. The shore anglers catching fish were mostly those that were able to find cleaner water close to shore. There were a few fish caught out of the dirty stuff but the real action was just a bit further out. What was really peculiar about this "murk" was that it abruptly stopped against the typical clearer water that we've been enjoying the past few weeks. If you're having a hard time visualizing it via my words and the image above, here's what I saw in map view…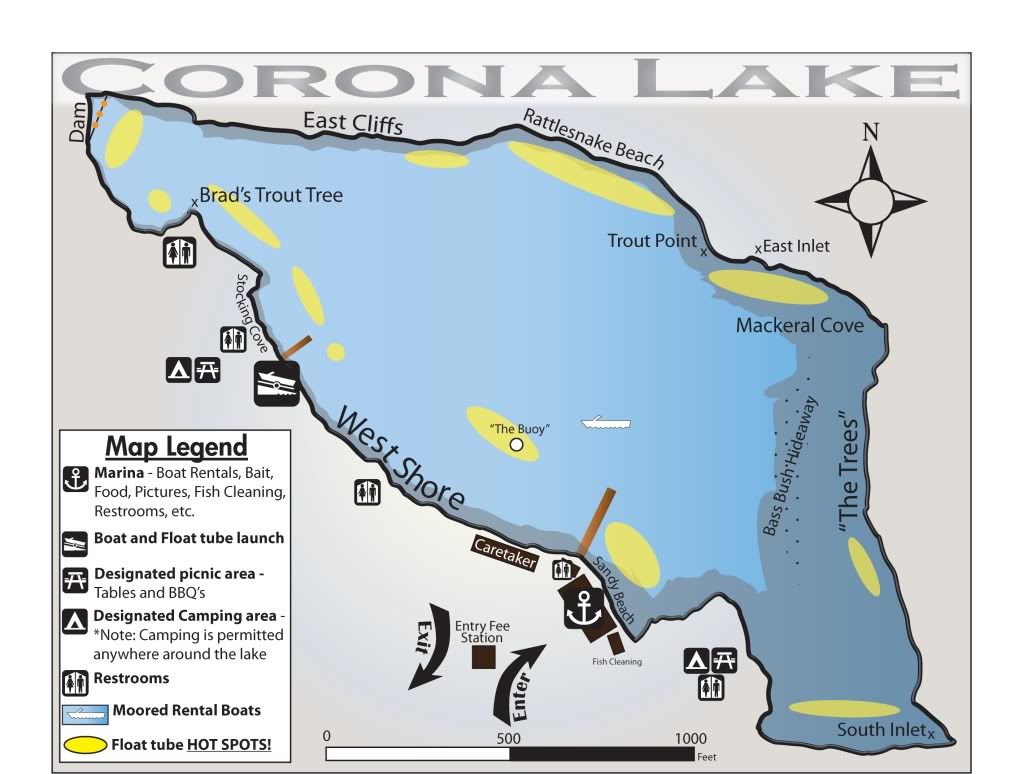 The greyed area shows the extent of the murky water on Saturday. This map isn't perfectly precise, but you can pull the general "murk trend" from the image. And there's a good reason for why this trend would be the case. The "river" delivers a concentrated sediment load to the lake and thus from the hillside behind the bait shop you could see a plume of sediment entering the lake from the south. Sediment is also sourced via direct input from the surrounding shoreline. The most clay rich shoreline runs along the north/east side of the lake while the area on the west side of the lake by the dam is largely gravel. So to get to that clean water you had to be just a bit further from shore than usual and if you HAD to fish from shore, the area down by the dam seemed to be a decent option. But there were pockets of clean water along the shoreline in a variety of places, they just required a bit of hunting and tricky tricky, they moved! Being the excellent fishermen that they are, the float tubers noticed this right away and they were out there slaying them.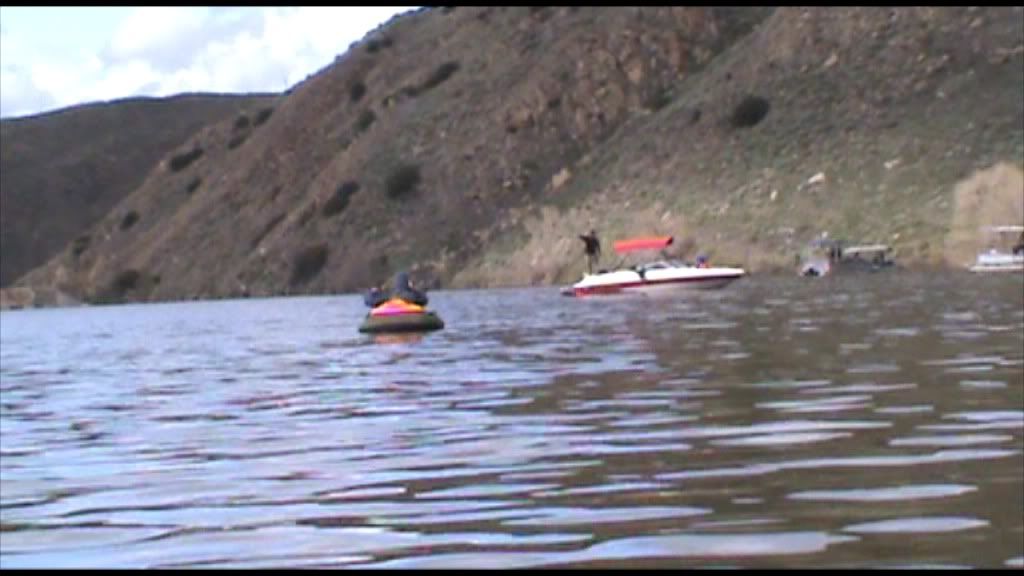 Bit and hiding it!

Look at that fish!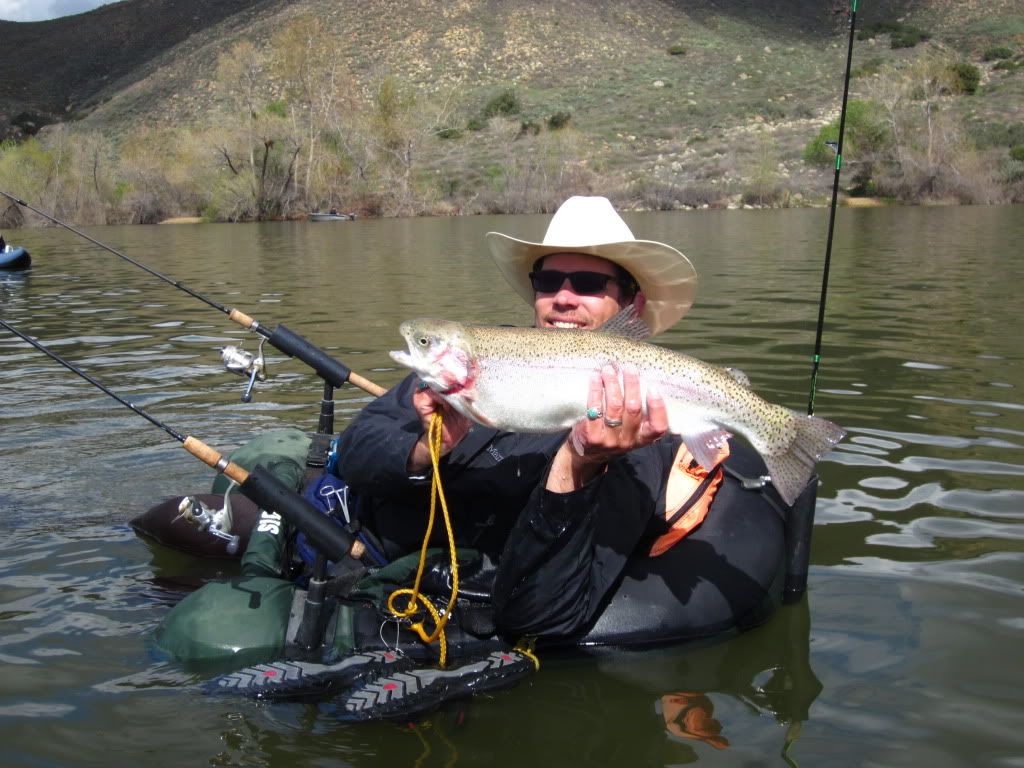 Look away from the gorgeous fish for a second and notice that he's sitting in GOOD WATER! Being in the right place at the right time sometimes takes a bit of know-how, and its obvious this guy (I'm pretty sure his name is Aaron too) "knows how"! Good chatting with ya buddy!
Got a chance to have a fun chat with Kerry from fishinglegend.net who was out there killing 'em too along with the other tubers. Great to see you guys out there representing the Inflatable Navy while I was jamming around on my hunk of plastic taking video and pictures!
Most of the guys I saw were working the powermouse rig. The fish above was caught on a white egg above a yellow Powerworm being drug slowly along the bottom on what looked to be about an 18″ leader if I saw things correctly. The fishing was not nearly the stupid wide open fishing that the lake experienced Thursday and Friday, but good fishing all around with at least a few fish hanging from most of the boats that I stopped by. But alas, I couldn't stick around…I had other fish to fry.
After running to Orange County to trade in the kayak that lead me around Corona Lake that day, here's what I caught Saturday…All 88 pounds of it…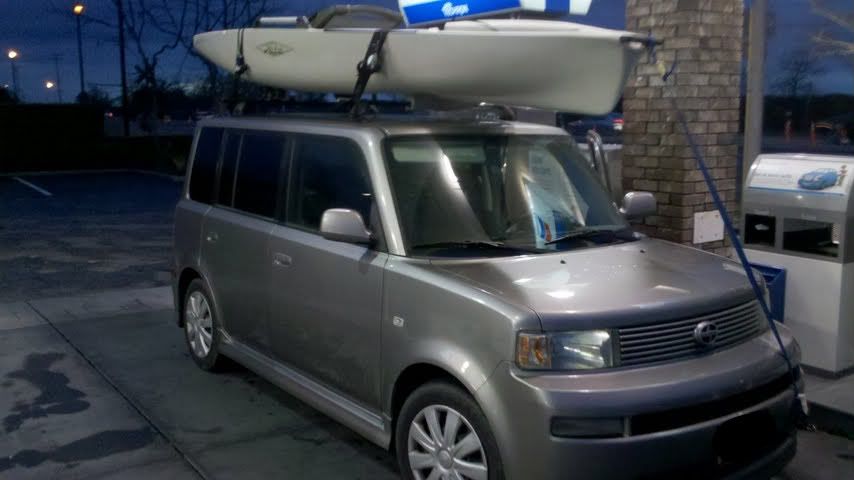 2011 Hobie Pro Angler. I can't tell you how excited I am about this boat. I can't wait for the first giant whiskerfish to slam the deck of that bad boy. One of these wouldn't be half bad either…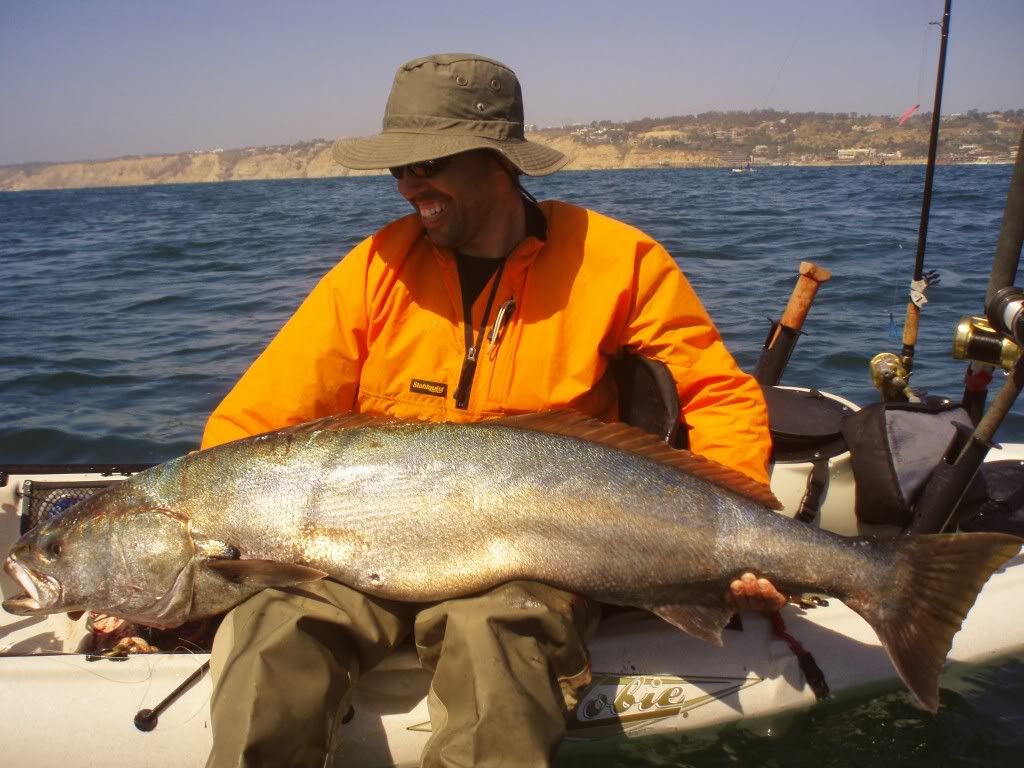 The rain pounded again last night and I'm curious as to how the lake looks now. Based on how things looked on Saturday, my obvious recommendation is that you find any way that you can to get off of the shore. Rent a boat, buy a float tube, beer-bribe your boat owning buddy to take you out, swim (just kidding)…whatever it takes! The lake is now full which is a great thing in terms of the time it will take for the murk to clear out. When water is spilling over the spillway things clear up MUCH faster than when the lake is low so we shouldn't have to deal with murky water for nearly as long as earlier this season. But for those going out in the near future, the above "off of the shore" recommendation stands!
As always, thanks for taking a read. And to everyone that came up to me over the past few days excited about everything going on with the Inflatable Navy and From Aaron's Angle, I can't express to you how great that makes me feel.
What a weekend and there's still plenty more to go! I have a giant kayak waiting for me in the garage that I'm about to go play with! WOOHOO!!!