The Inflatable Navy SARL Float Tube Homecoming Event and Tournament REPORT!
My head is swimming like I've been up for 2 days talking fishing with the most amped group of fisherman I've ever seen…because I was! My voice is gone like I've been joking, laughing, hootin' and hollerin' for 24 hours straight with friends old and new…because I have been! And I've got a stupid smile on my face stretching from ear to ear like I just witnessed an event of epic proportions…BECAUSE I DID!!!
THE INFLATABLE NAVY SARL FLOAT TUBE HOMECOMING EVENT AND TOURNAMENT
If you don't feel like reading on or even just scrolling down through the pics below, let me sum it all up with a single pic…UNBELIEVABLE!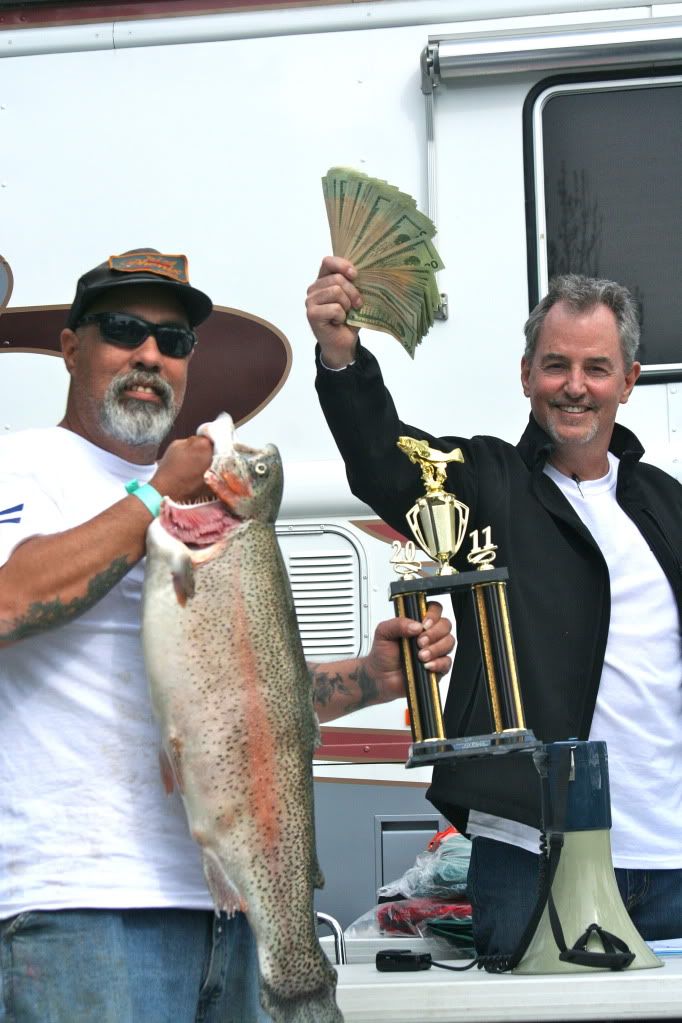 My rods are hanging in the rod racks attached to the ceiling of my little car just as they were when I left for Santa Ana River Lakes yesterday afternoon. My tackle box remains untouched, my float tube never got inflated, and my waders are bone dry. Despite having not put a single crank on the handle on any of my reels over the course of the last 24 hours I can honestly say that this event was one of the best and most memorable days of fishing I've ever had! I lived and fished through each and every one of you guys and gals that made up the NEAR CAPACITY crowd at Santa Ana River Lakes today, and I wouldn't trade that for the world!!! So I'm starting this report with the biggest THANK YOU that I could ever muster to EVERYONE that showed up to the event today. You all made this event truly memorable and for that I am truly TRULY grateful!! Just awesome. But enough of the "sappy stuff" from the "sappy dawg"…LET'S GET ON TO THE FISHING!!!!!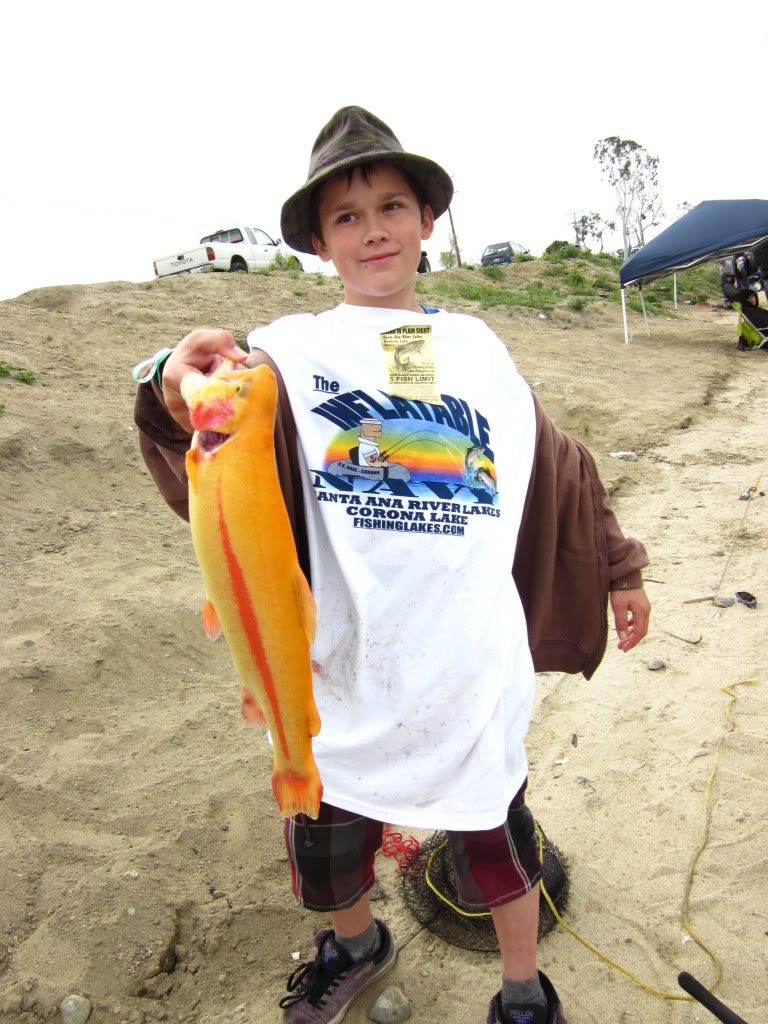 Friday, 3/18/11: Santa Ana River Lakes
I love the "die hards". Those people that go to extreme lengths to make sure that they are there when "it" happens. And it seems that every time I think to myself, "well, what I just did was pretty hardcore", someone is there to quickly remind me of what being a "diehard" truly means…
I pulled off the 91 freeway at about 4 pm. I spent the majority of my drive from the IE to the OC chatting with my good buddy Doug and I'm sure we both probably sounded like excited little kids on Christmas Eve. Doug was so stoked on what was about to go down that he hadn't slept in 24 hours (I'm not joking) and I had 2 pots of coffee coursing my veins that I downed in a feeble attempt to make my regular work day seem to go a little faster (still not joking). As I pulled up to the gate I was greeted by the REAL diehards…a BUNCH of cars were already in line with tents pitched and bbq's blazing!! I approached the group in the car at the pole position and they told me they had gotten there at…get ready…1 pm!!! Seriously, 1 PM!!! Just WOW!
We began an early Optional Jackpot sign-in for the diehards at about 9 pm. Brian from Lip Ripperz showed up with boxes stuffed to the brim full of Lip Ripperz Litl Ripperz mini-jigs AND his new Love Sauce. Big THANKS to Lip Ripperz for showing their support and providing some fantastic product. Brian even decided to stick around for a bit, help sign people in, and talk a bit of fishing! THANKS BRIAN!!!
We had some bonus giveaways for the elite crew of diehards and they could not have been more grateful. These guys were just great and made our jobs that evening a piece of cake! And that was true both during the registration process AND while these guys were waiting in line. Walking the line I saw families playing poker, friends bbq'ing on the tailgate, new buddies checking out each other's float tubes, kids rigging up their gear with mom and dad…fantastic stuff that was a lot of fun to watch. Really fun chatting with all of you!!!! HBAR, I WANT YOUR KICKBOAT BUDDY!
Saturday, 3/19/11: THE BATTLE BEGINS!
It's 4:15 am and the alarm was set for 4:30. I'm nestled in my comfy sleeping bag crammed between piles and piles of prizes that we are set to give away at the event when suddenly – *BANG *BANG *BANG on the door. It's the Lake Staff. Evidently our line of cars was spilling WAYYYYY into the street even despite the overflow gates being opened a few hours earlier! HOLY MACKERAL!!!
The line for the Optional Jackpot registration table was already forming and we needed to get people in FAST!!! So easy solution…Let's get people fishing!!! We opened the gates about an hour early, set up the assembly line at the registration table and got through everybody as quickly as possible. THE EVENT HAD OFFICIALLY BEGUN!!! And we couldn't have done it without DONNA AND RICH from Team 57. These guys showed up early, stayed at the table until everyone was checked in and helped out BIG TIME by passing out the new official Inflatable Navy T-shirts NO QUESTIONS ASKED! THANKS SO MUCH GUYS!!!
The event was a huge success and had a near full capacity turn out at the Lake despite the last minute forecast of poor weather. The Jackpot participation was equally impressive and nearly half of all anglers also entered the optional $25 Jackpot, which made for a HUGE CASH PAYOUT. SARL said that they would give away more than $10,000 in CASH, food and prizes, and the actual amount given away went WAYYYYYY over that amount. $3,000 in CASH ($1,500 each) was actually handed to the two (very happy) first place winners in the two divisions, float tube and non-float tube. $1,500 CASH was the potential amount SARL advertised it would give to each of the 1st place winners and the Lake was very happy that they made that happen!
The float tubers came out to join us…en masse!!!!!!!

HOLY MOLY!!" I have NEVER seen this many float tubers at Santa Ana River Lakes. Not even close. And what was really great to see was that there were a ton of new float tubers as well! In fact some of these new float tubers were using their float tubes for the very first time at the event and what was great to see was the veterans helping get these guys set up, geared up, and on the water.
THE FISHING!!!
The Lightning Trout stockings this season have produced some absolutely WIDE OPEN fishing. For whatever reason, the majority of these fish want to school up and stay schooled up while chomping on anything that crosses their path. Last Thursday out at Corona I put 5 lightnings in the net in 5 minutes! No joke! The school was down by the dam (and was hard to miss seeing as how these fish are bright gold and there were thousands of them just below the surface!) and shortly thereafter, CRASH BANG BOOM, easy limit! And the same thing was happening out at SARL through Saturday.
I walked the entire shoreline multiple times throughout the day at the event chatting with people about the fishing and came across a bunch of people with limits. What was odd was to then walk over to the adjacent groups and see their stringers consisting entirely of holdover tailwalkers from the previous week's stocking. You could basically trace out the path of the school of lightning trout just by looking at what people had in their baskets and on their stringers!!! And by standing up on the bank you could watch it all happen!!!! As the school swam down the shoreline you'd see the hookups begin from one end and proceed to the other!!!! Those in the right place at the right time had a ton of fish in their baskets and I saw several limits before 11:00 am. At one point, a dense school of lightnings showed up right in between the 2 boat docks near the tackle shop. Winnie is an avid float tuber and was the first to spot it. He tossed a jig into the school and with 3 casts he pulled 3 fish out of the mix! NICE JOB WINNIE!!!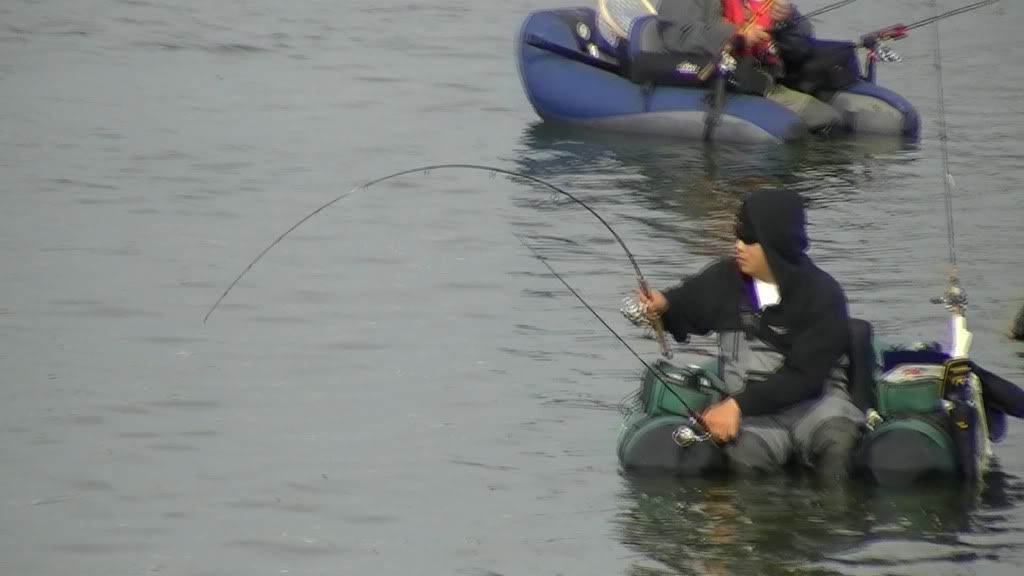 There were two stretches of shoreline that seemed to be where the lightnings wanted to concentrate. I've highlighted them on the map below. For the float tubers, the area around the docks was where most people spent the majority of the day. You may also note the "$" signs…I bet you can guess what that means!!!! We'll get to that soon!!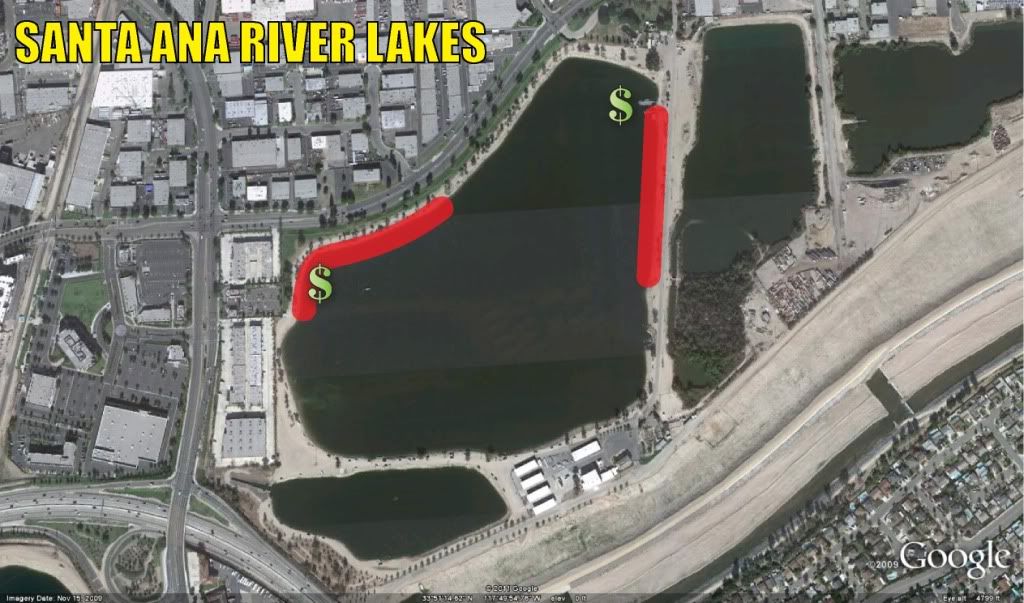 The consensus among EVERYONE fishing was that they were HAVING A BLAST and it was great to see that people were putting fish on the board. Lots of fish caught on dough bait, nightcrawlers and the famous "powermouse". Rather than continue with more of my droning on, I'll let the pictures do the talking!!!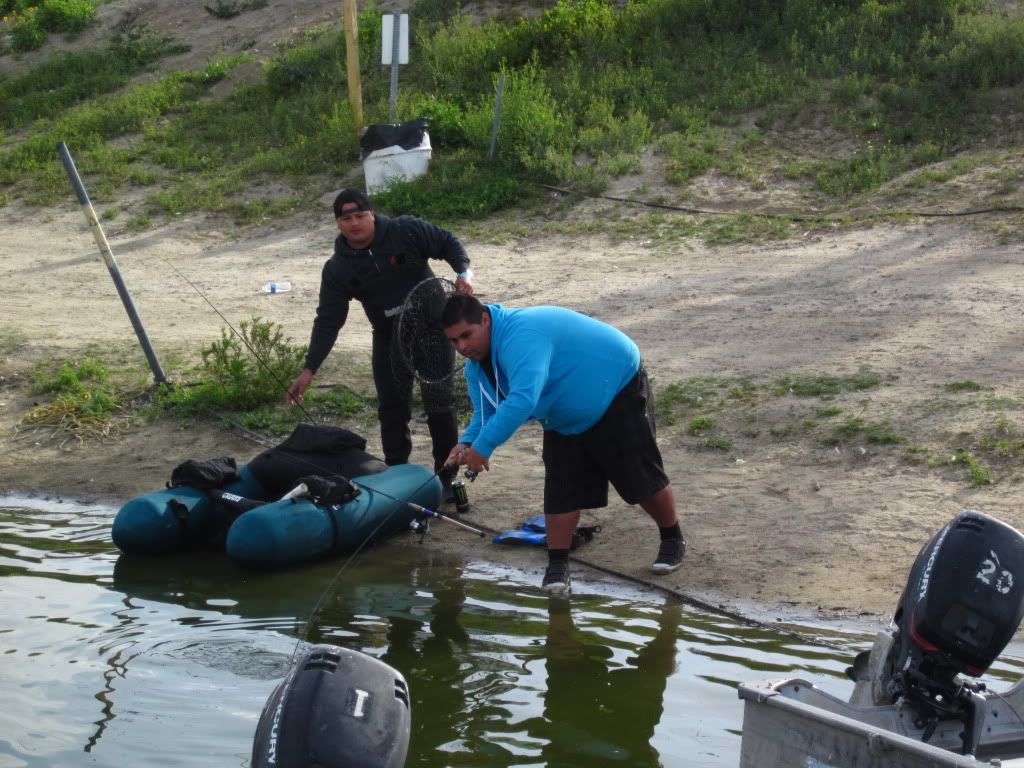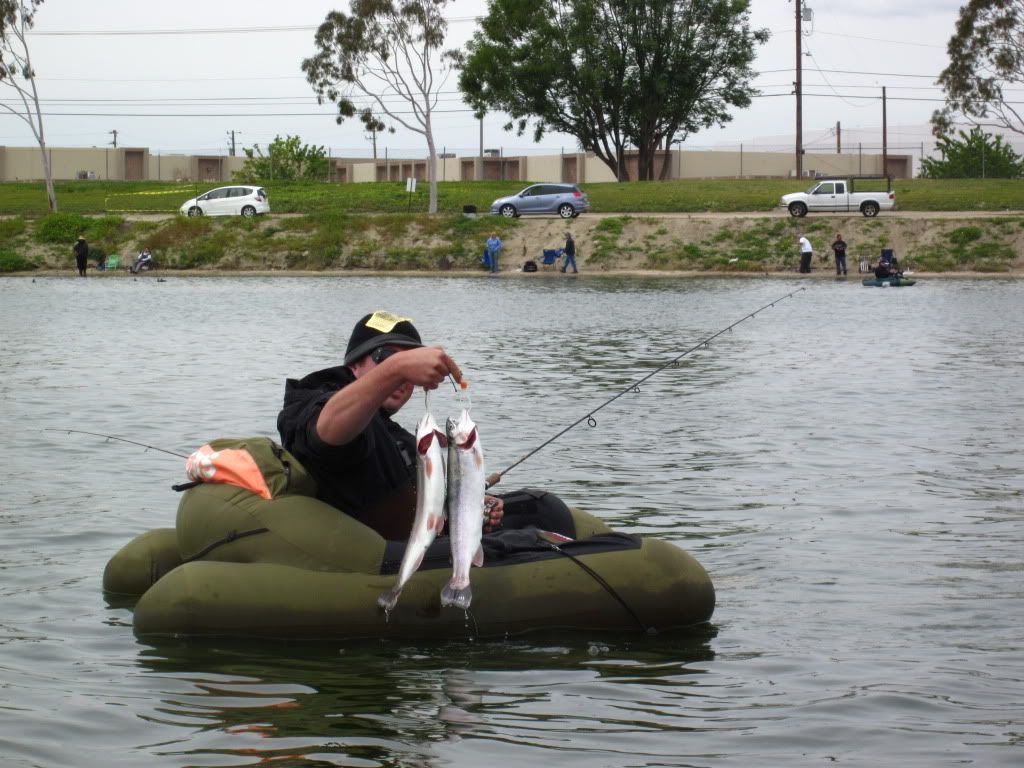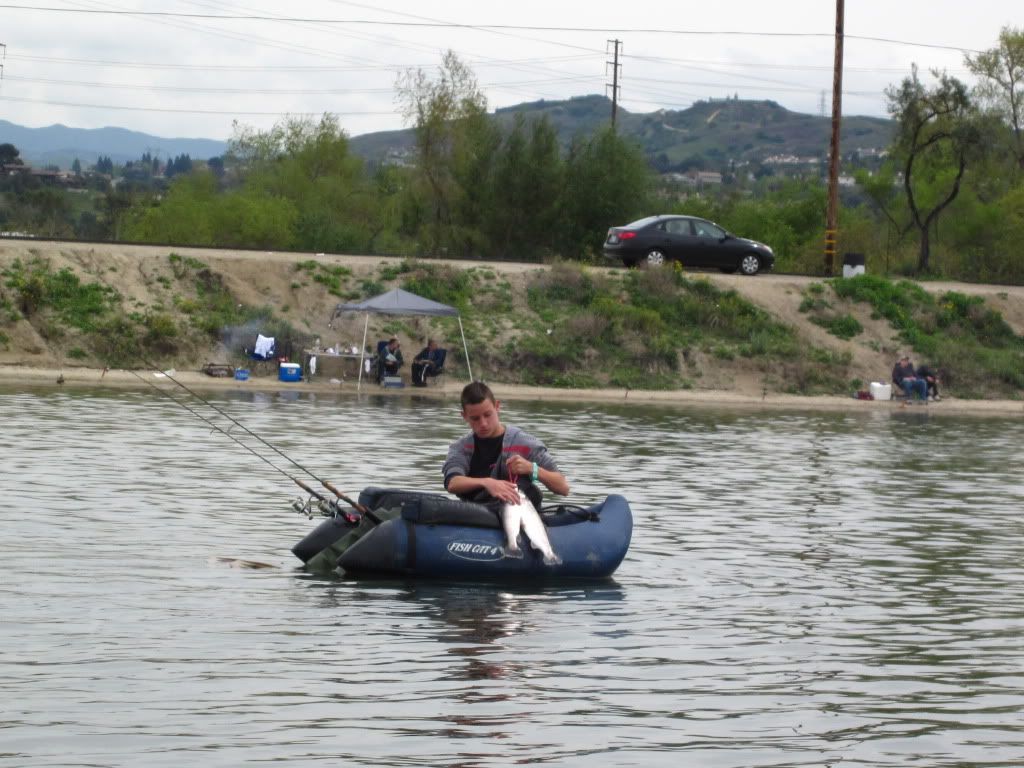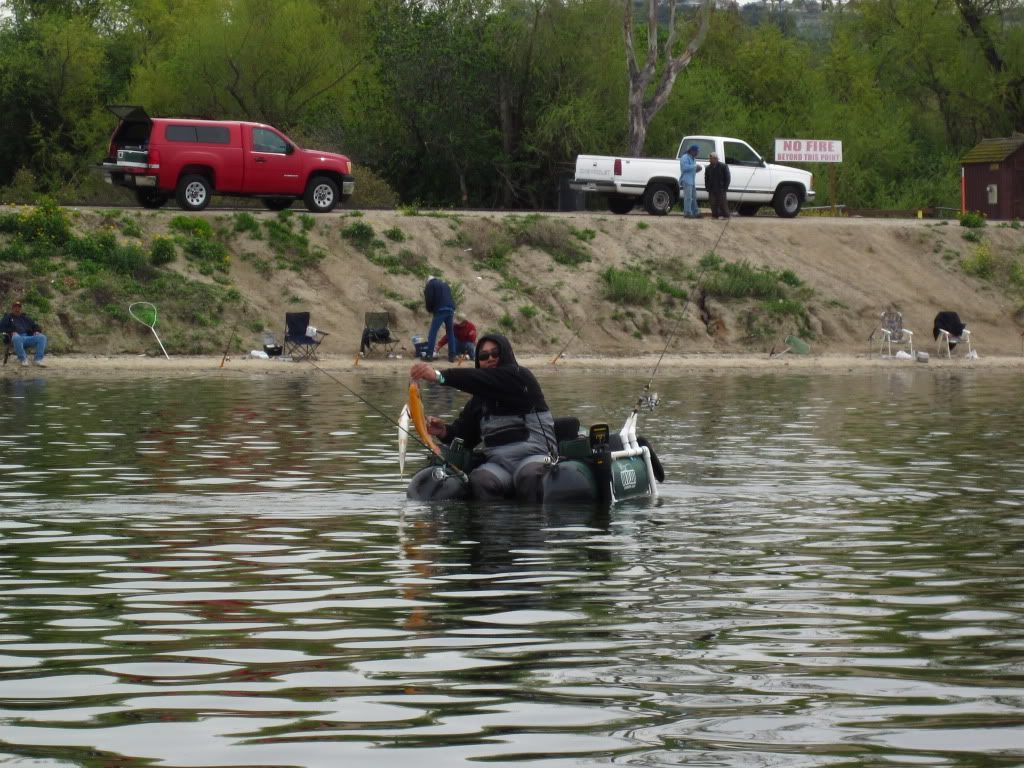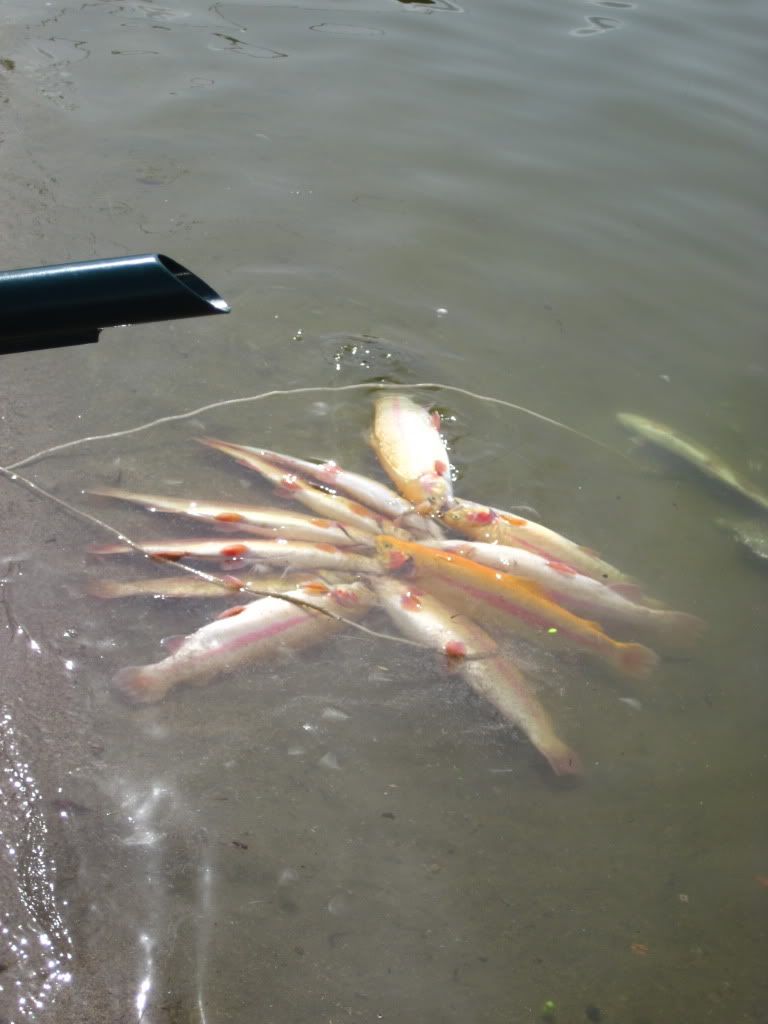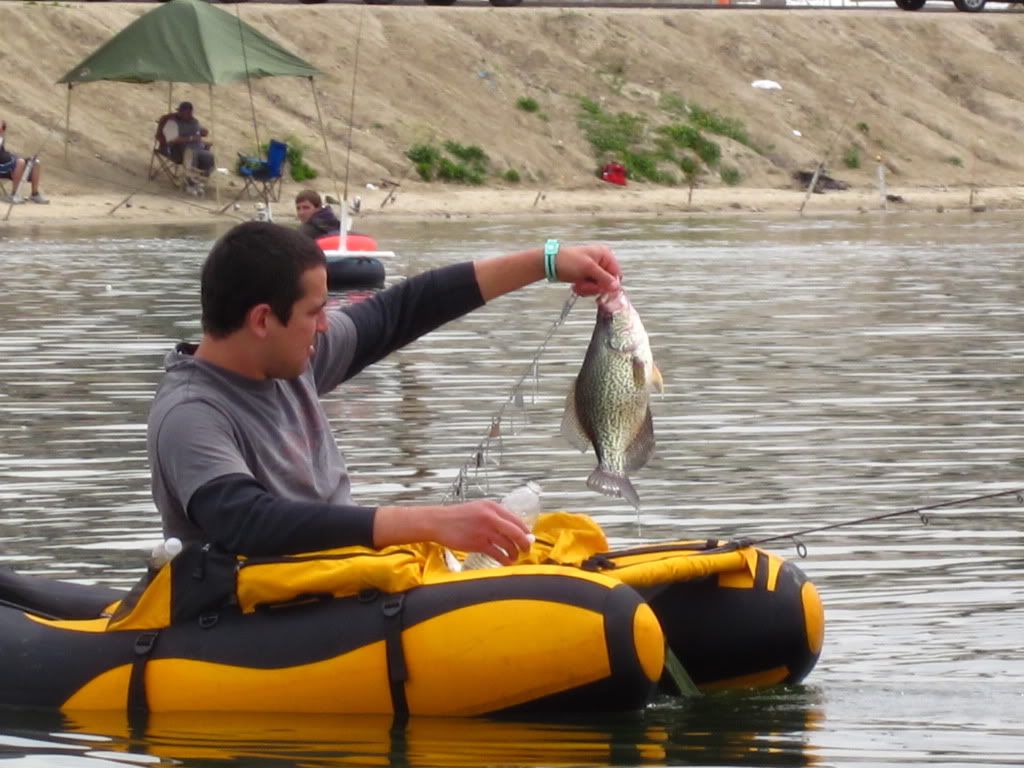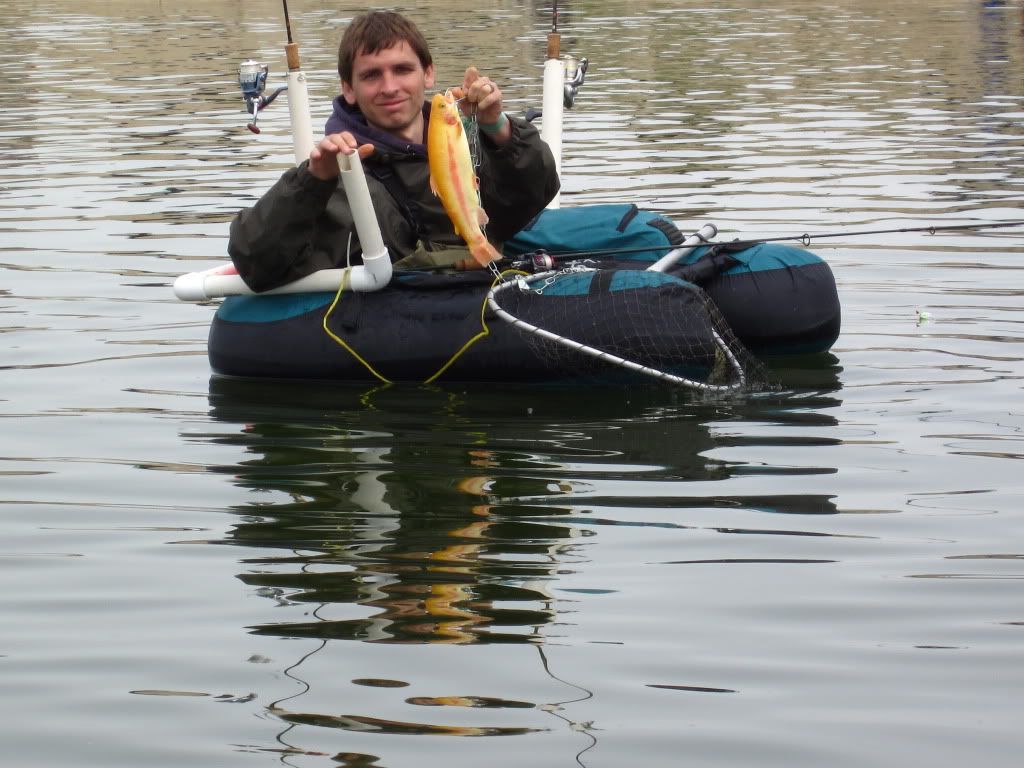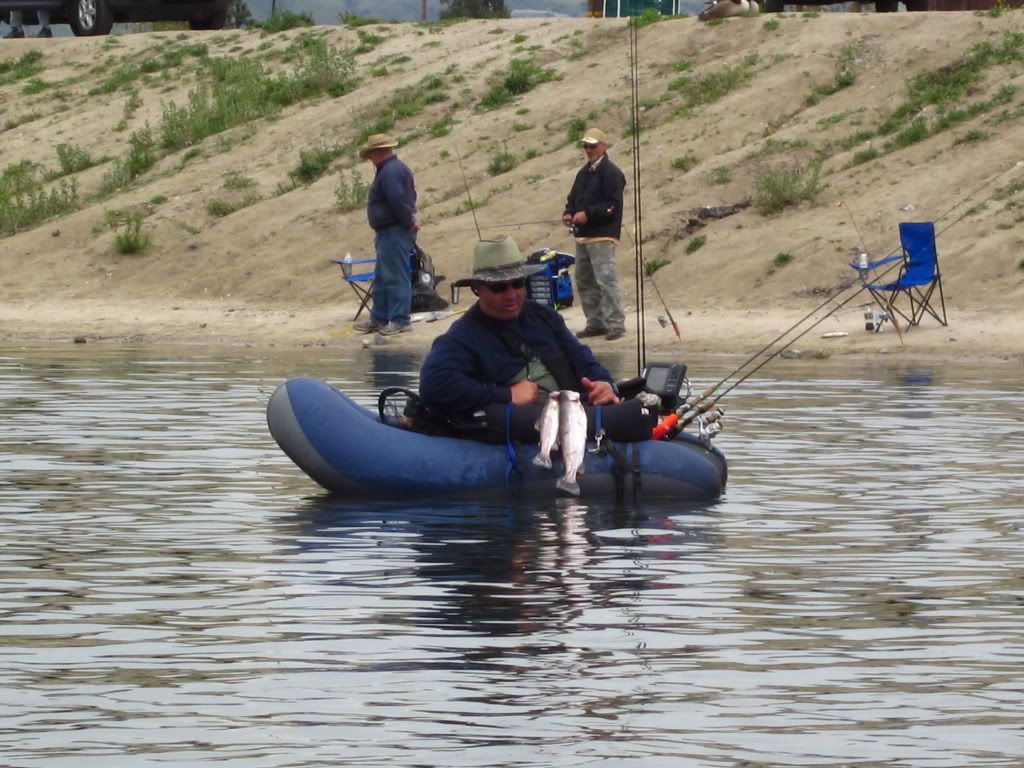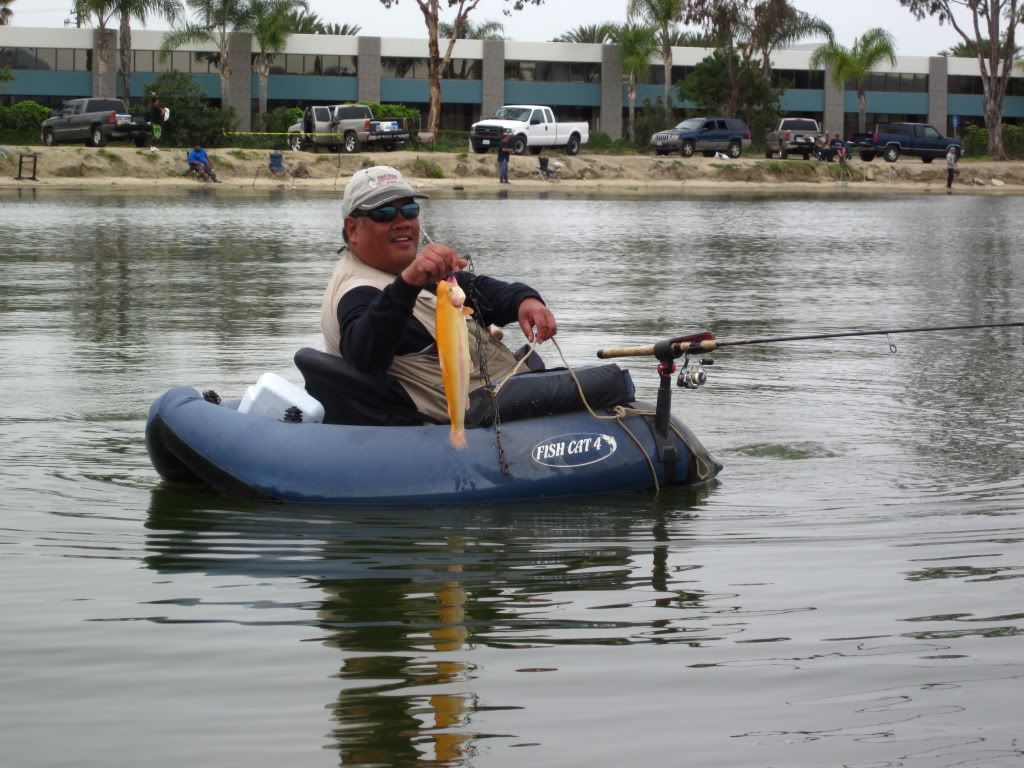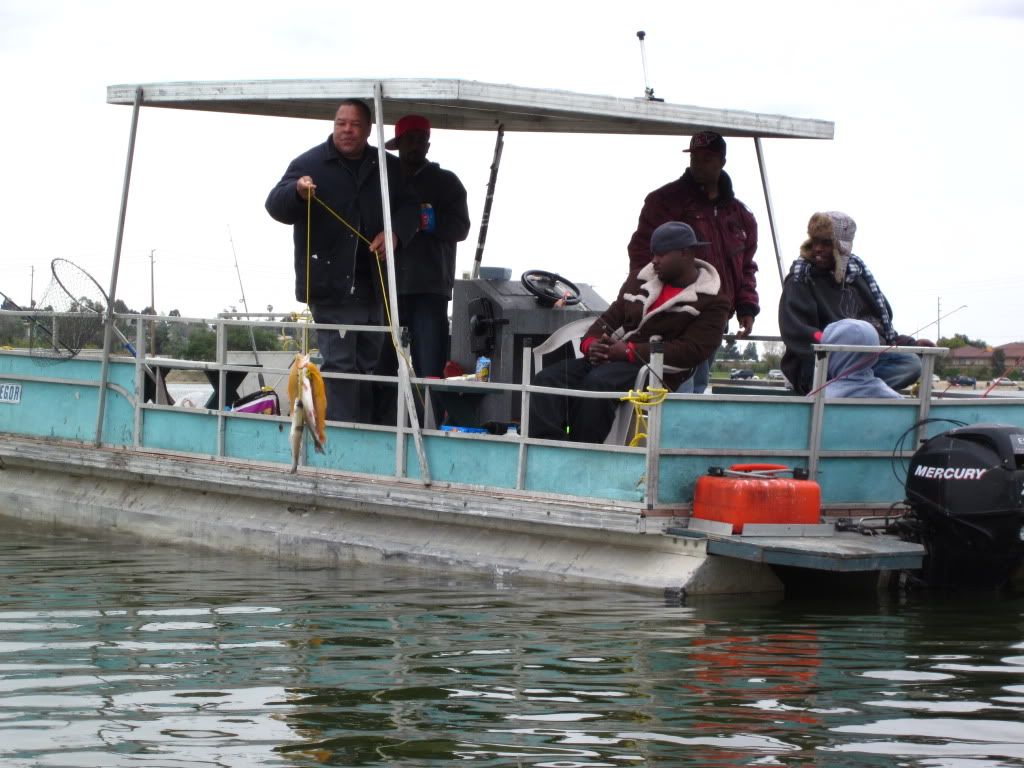 Ken on his second trip out on a float tube!!! NICE WORK!!!!!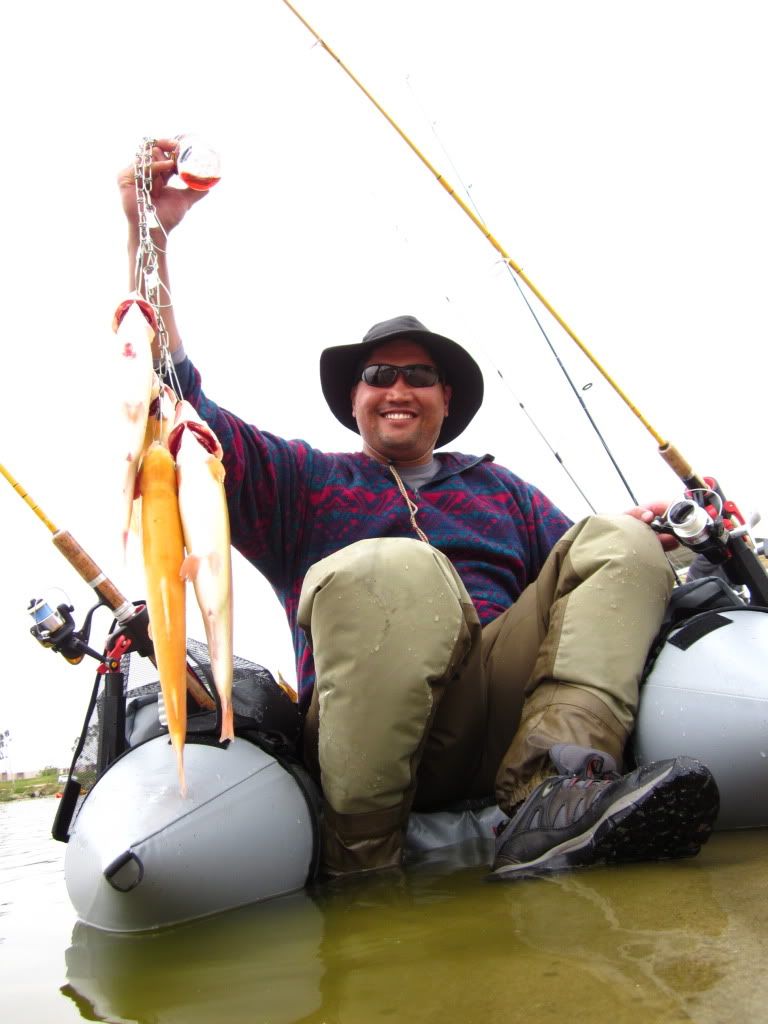 SLAB!!! NICE WORK BRENT!!!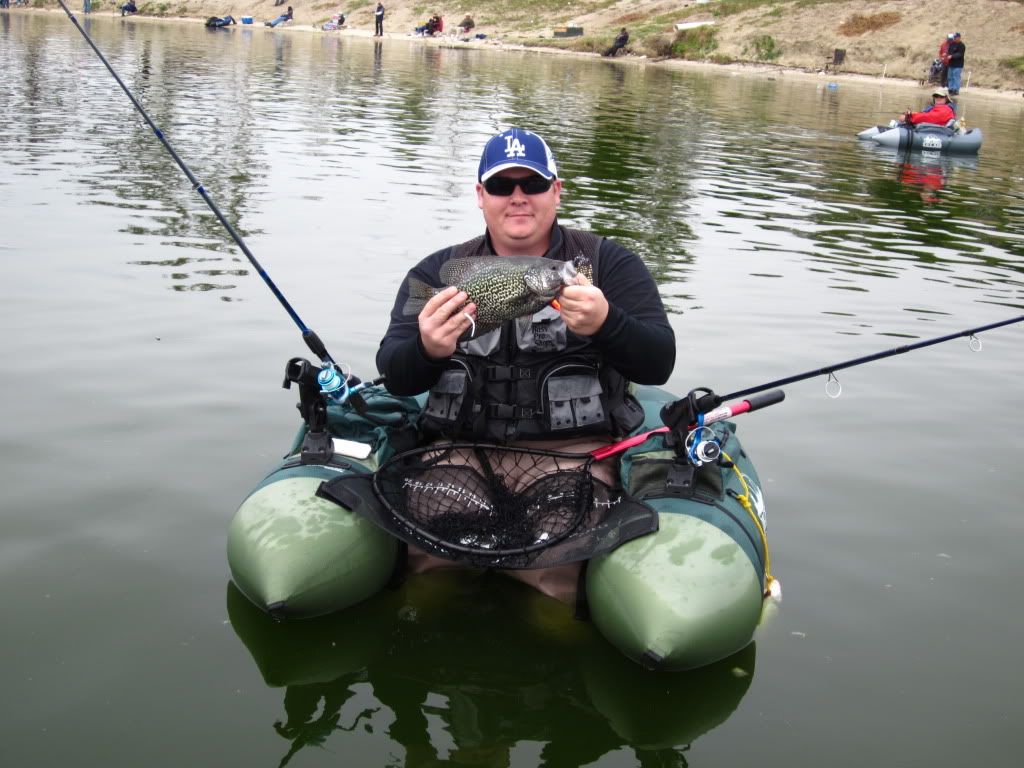 George!!!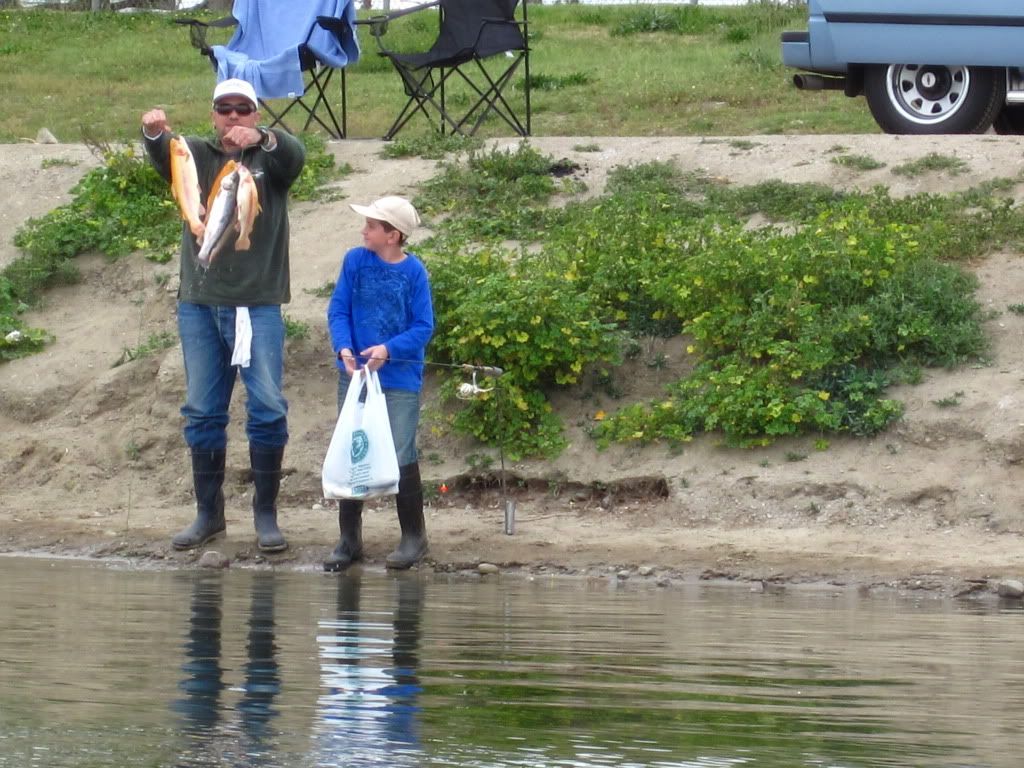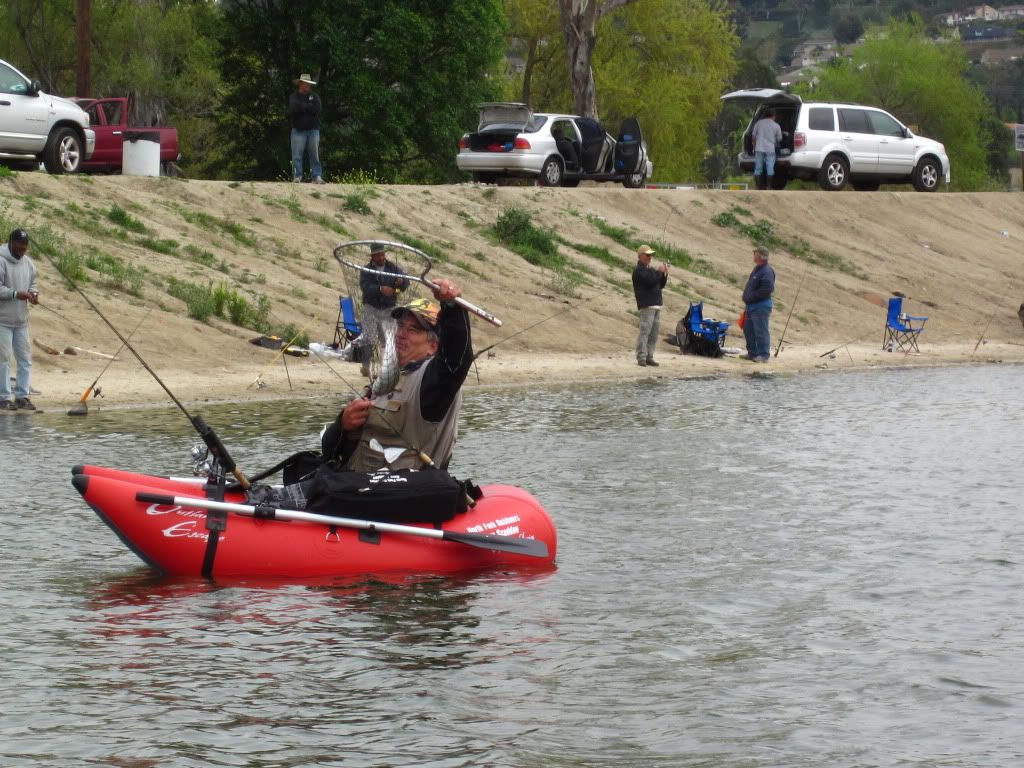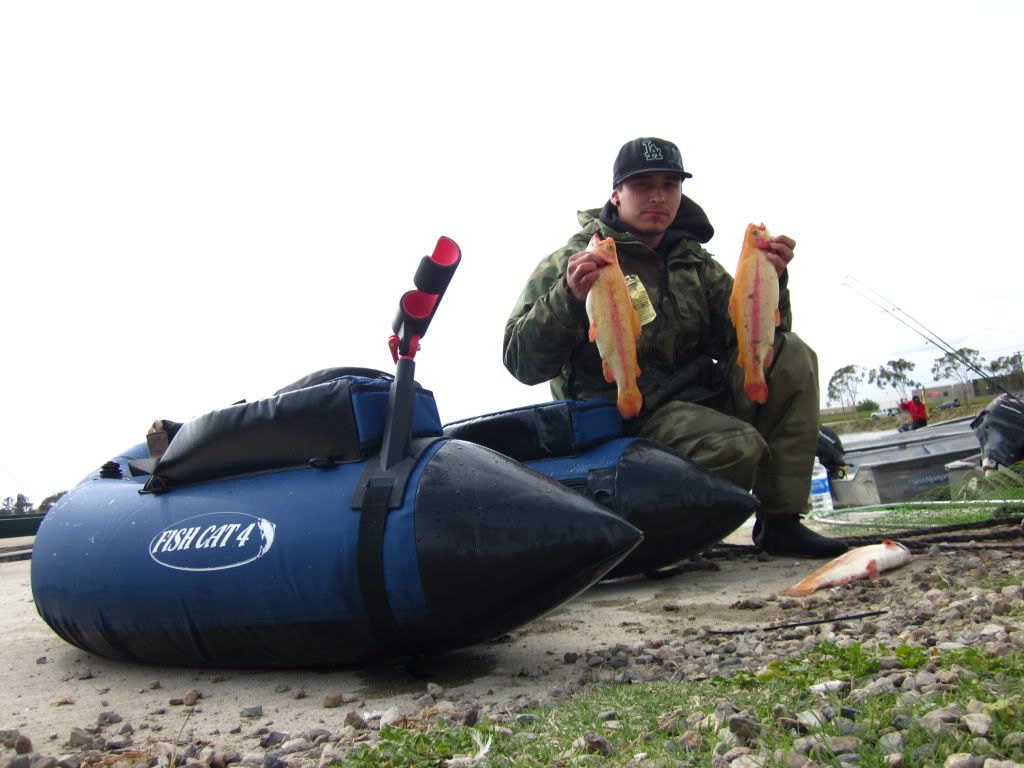 You guys may have noticed the SLAB crappie in a couple of those pics. These things were MONSTERS! Most of them were pulled from around the boat dock and were caught on either mini jigs or trout worms. I know that there are a bunch of you guys that love to slam the panfish and if that's you, NOW IS THE TIME! They are doing their "thing" and several guys were able to top their personal best on the panfish!!! NICE WORK!!!
But this event was about so much more than just catching fish. There was a ton of stuff going on and man was it a ton of fun to be a part of! People won a bunch of cool stuff throughout the day including fishing trips, free line fill-ups, hats, shirts, etc. etc. etc.. Another HUGE thanks to our sponsors for giving us the goods to make this all happen. We couldn't have done it without ya!!!
LUNCH!!! I asked our caterers if they wanted to move into my home. Free of charge, just cook this same meal EVERY SINGLE DAY!! They respectfully declined but told me that they will gladly return for any event that we ever throw…and believe me, we will be sooooooo happy to have them!!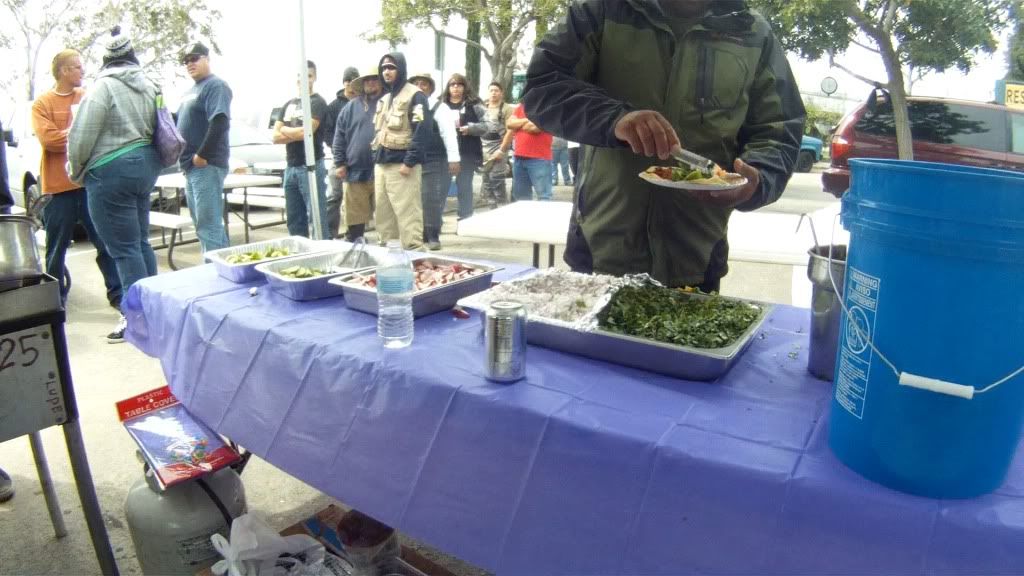 FLOAT TUBE RACE!!!!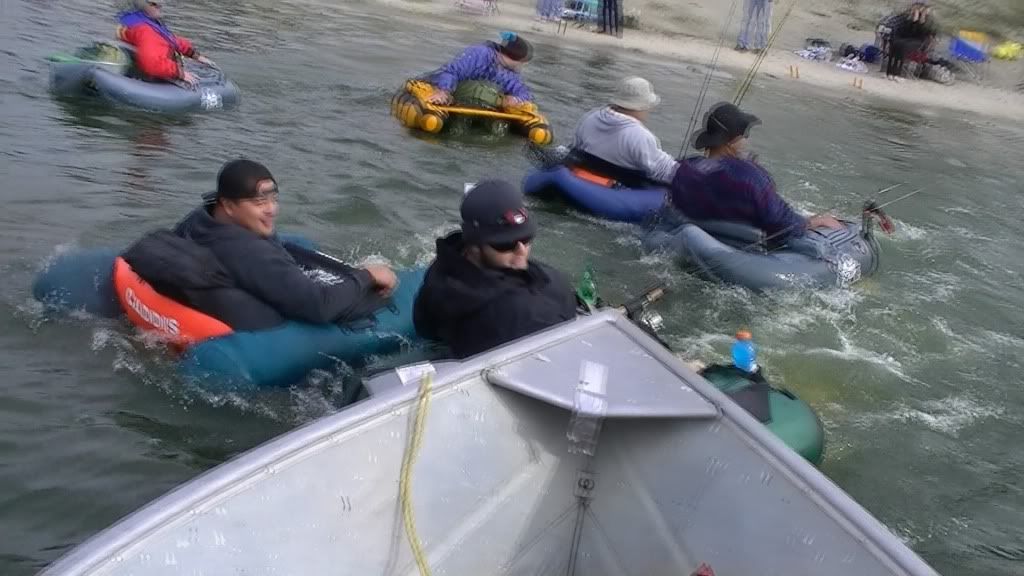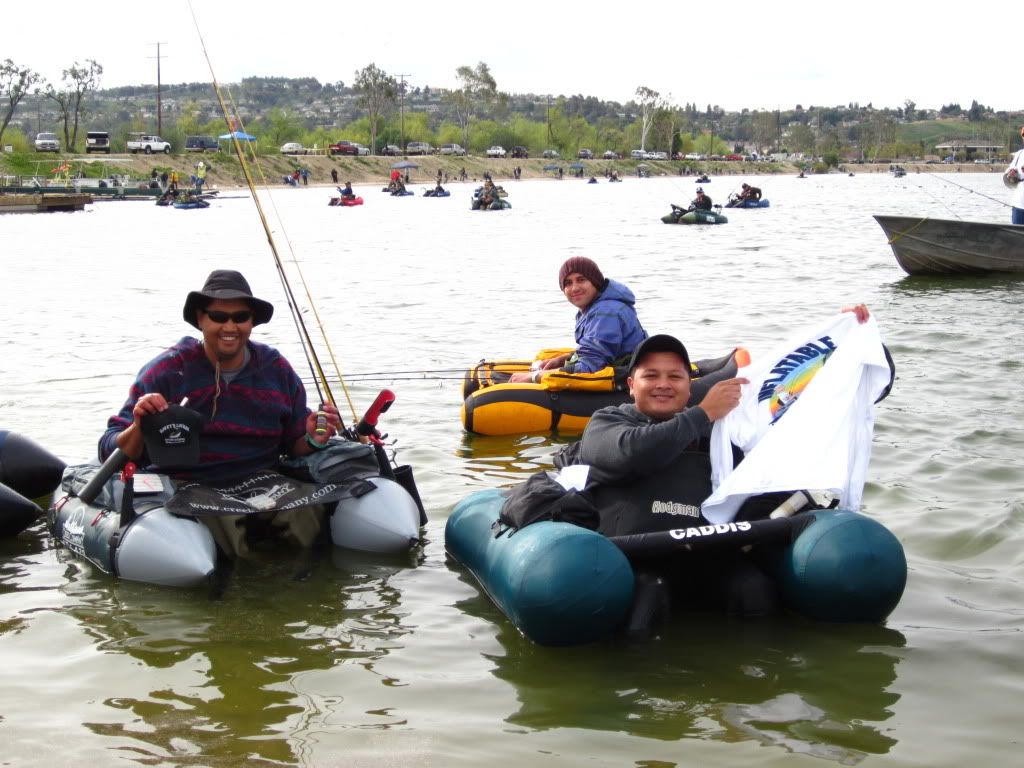 Best Rigged Float Tube – what you can't see in this picture is that one of these tubes had a stereo on board!!! HA!!!

WINNERS WINNERS CHICKEN DINNERS!!!
The Awards Ceremony started at 3:30 pm sharp just as promised. The turnout was amazing!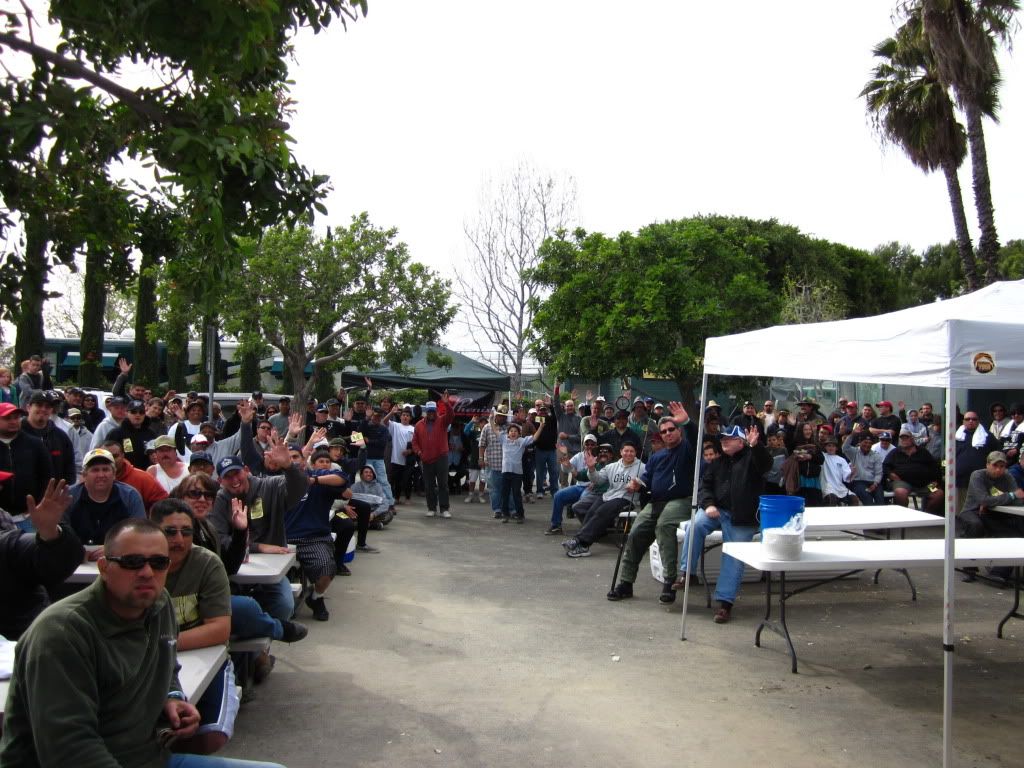 Without a helicopter or a super duper fish eye lens it was IMPOSSIBLE to get all of the people in the frame! They wrapped around the entire staging area from the parking lot by the boat ramp to the patio area by the bait shop. People were sitting on the fish cleaning station (I'm sure they realized that that wasn't the greatest seat in the house when they got to their cars!), leaning on all of the railing, standing in the beds of trucks, stacked in between all of the cars…just unreal.
Awards were handed out for the Jackpot Tournament first and because of some generous contributions the day of the event from Davey's Locker, we were able to tack on additional trips aboard the Freelance and the Western Pride to the prize list for our top 3 heaviest fish winners in BOTH the float tube and non-float tube divisions.
And everyone loves CASH!!!! And the winners from both divisions received a lot of it! $1500 CASH given to BOTH of our winners for a total of $3000 in cash winnings! Incredible!! And to top it off, the big fish for the day was a whopping 16 pounds 9 oz caught by Santa Ana River Lakes veteran Jay! The crowd gasped in unison when we brought this fish out at the awards!!!!
Non-float tube division winner Jay Lamori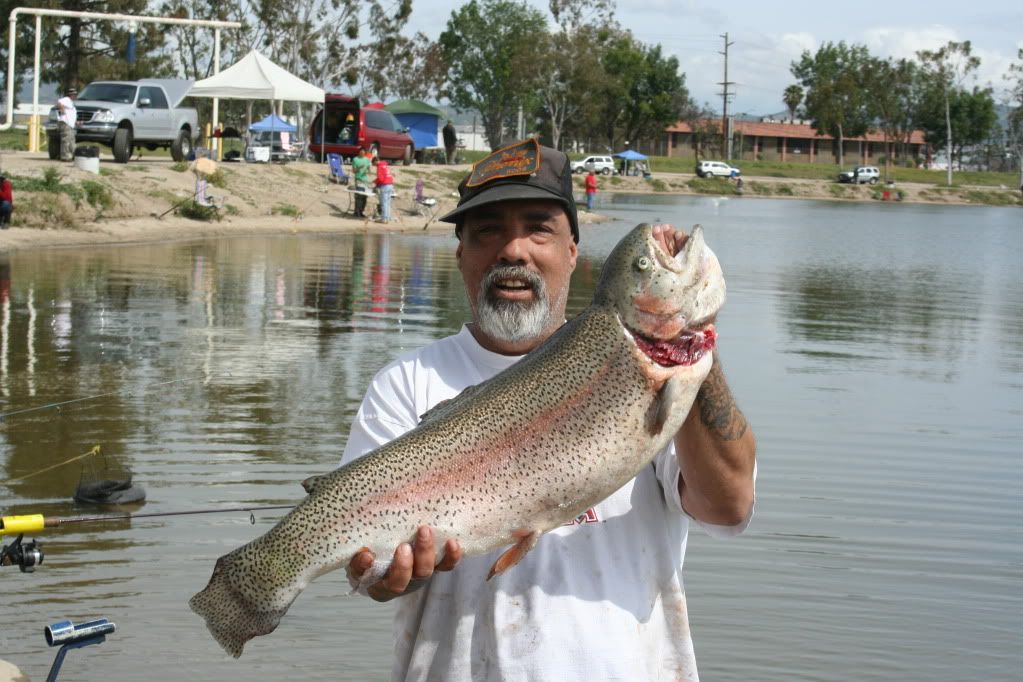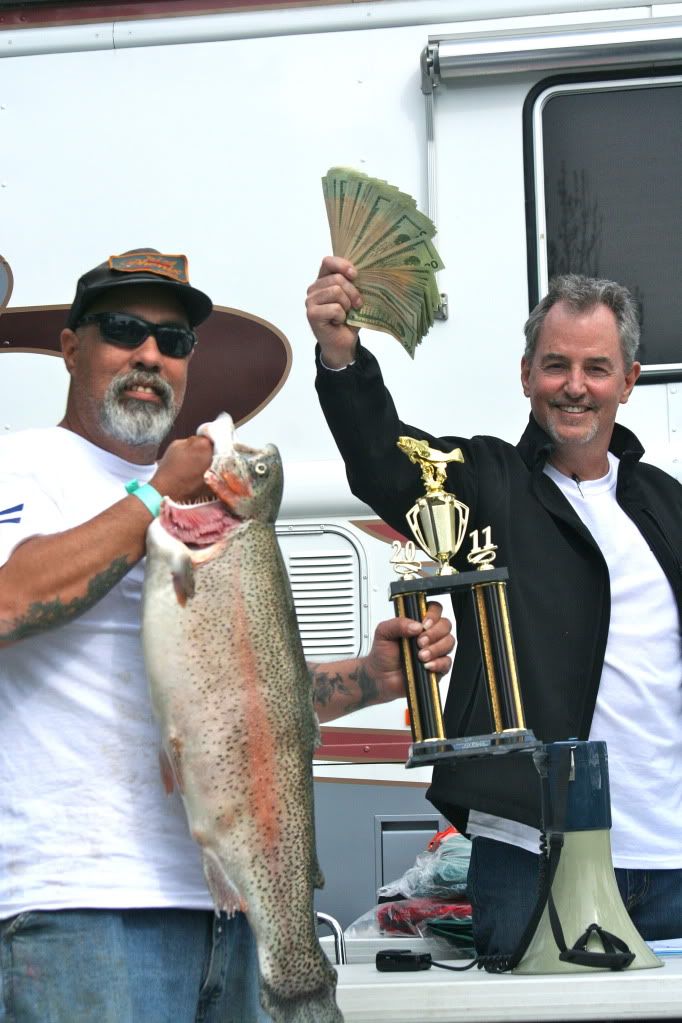 Float Tube Division winner Julio Urrutia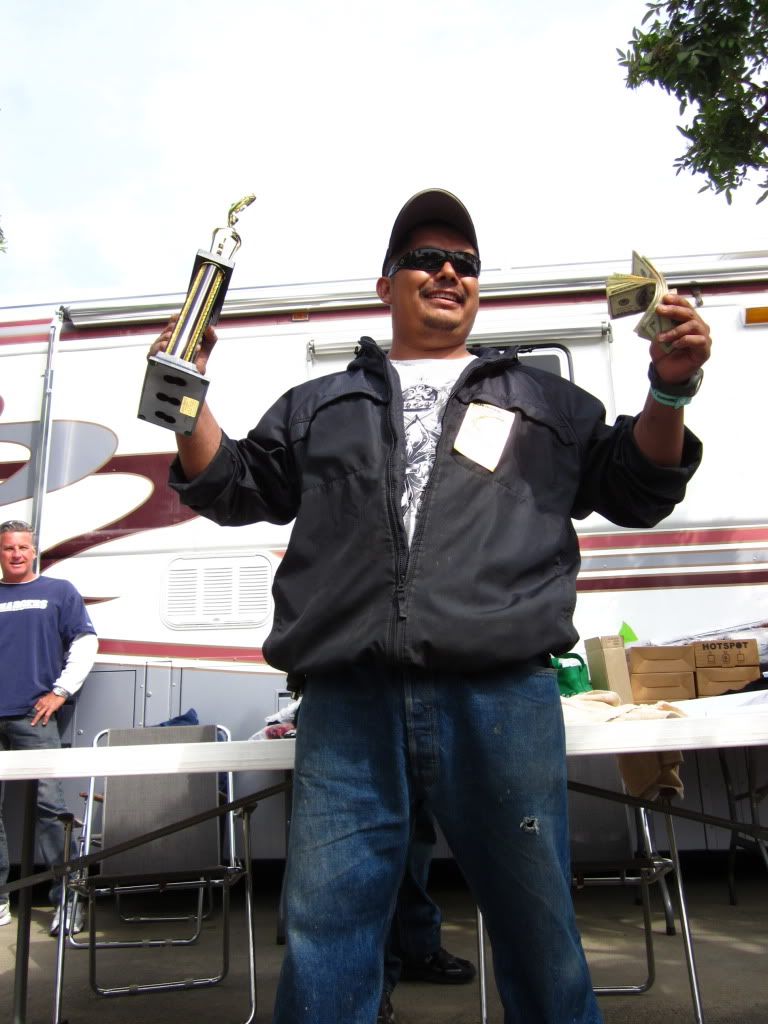 These guys were so stoked on all of this that they could barely stand it. And the second and 3rd place winners were the same way. Awesome job guys, way to get out there AND SLAY 'EM!!! The dollar signs on the previous map shows where both of the jackpot fish were caught. Here is the complete list of our Optional Jackpot winners:
Non-float tube division:
1. Jay Lamori – 16 lbs 9 oz
2. Mike Mirazo – 5 lbs 13 oz
3. Vince Virgen – 4 lbs 8 oz
4.
Float tube division:
1. Julio Urrutia – 3 lbs 15 oz
2. Steven Lessing – 3 lbs 13 oz
3. John Peterson – 3 lbs 11 oz (THIS WAS JOHN'S FIRST TIME EVER FISHING IN CALIFORNIA!!! NICE WORK JOHN AND WELCOME TO "THE NAVY"!)
And the fun was STILL not even close to being over! We had table upon table of gear, fishing trips, float tubing gear and prize packages to give away and people were eager with their gate passes/raffle tickets to see what they could win!!!
Here are a bunch of pics of our winners. The ladies were KILLING IT at the raffle! I'm willing to bet that everyone will be bringing their wives/girlfriends/sisters/etc. to the next one because good grief, the ladies were walking away with a TON of great stuff!!! People were having a blast. One guy even gave away a fishing rod he won to a kid sitting up front! Just awesome!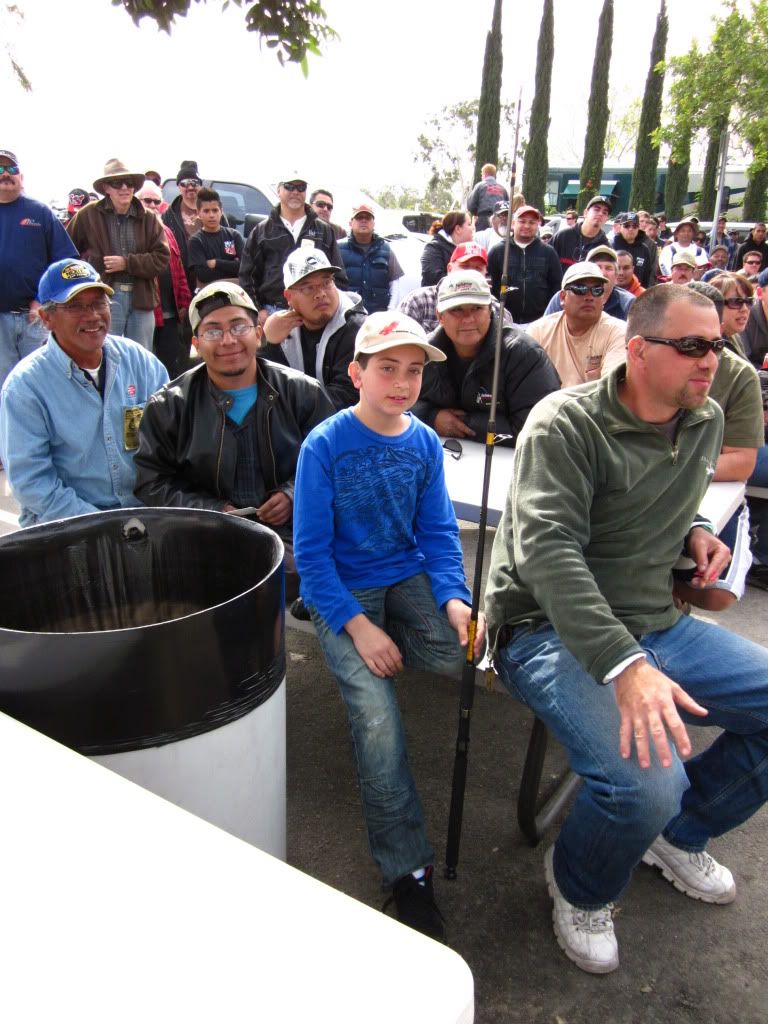 Brian Shaw Autographed TEAM 57 T-SHIRT!!!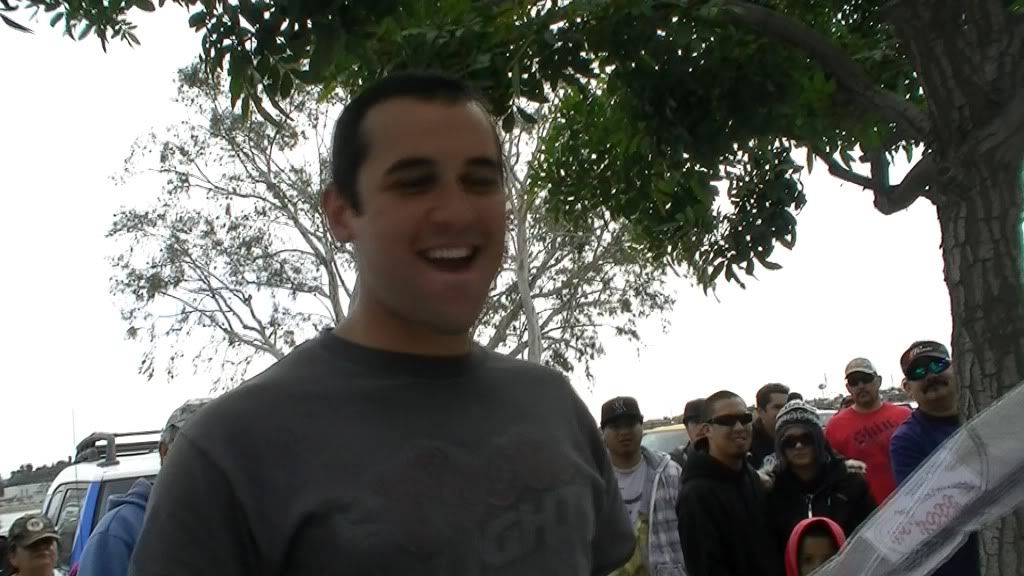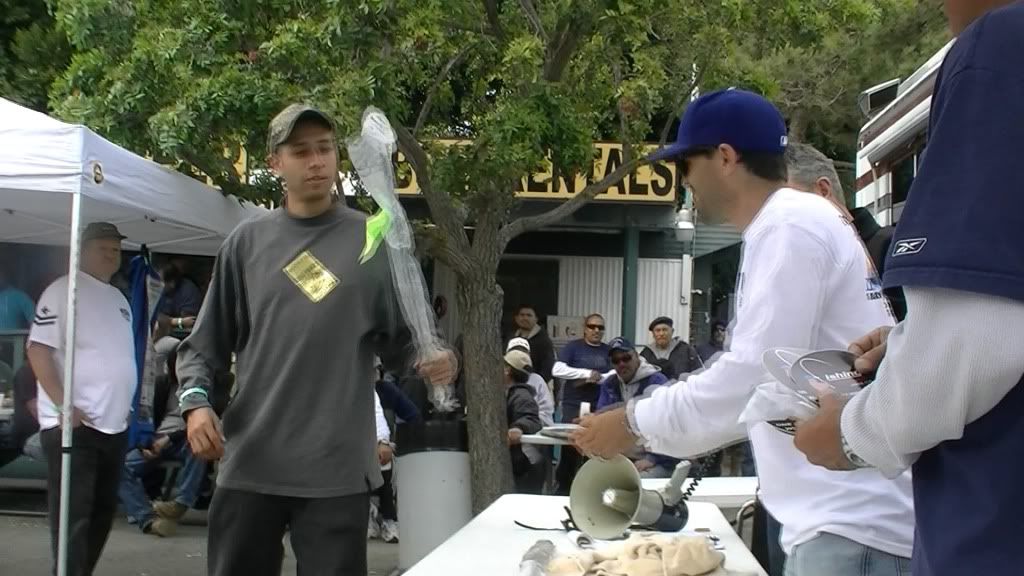 And then it came down to the GRAND PRIZE GIVEAWAY! 2 outcast float tube packages valued at over $500 each. One package consisted of a Prowler Float Tube and a pair of Hot Spot fins. The other was a Fish Cat 4 DELUXE, Waders, Boots, and a pair of Hot Spot fins. 2 lucky winners were selected and the greatest thing happened…NEITHER OF THE WINNERS HAD EVER FLOAT TUBED IN THEIR LIVES! And even better…despite people approaching them and offering large sums of cash on the spot for their winnings, BOTH winners said that they wanted to keep their tubes and take the plunge into the world of float tubing! How great is that?!?! Welcome to the Inflatable Navy guys!!!!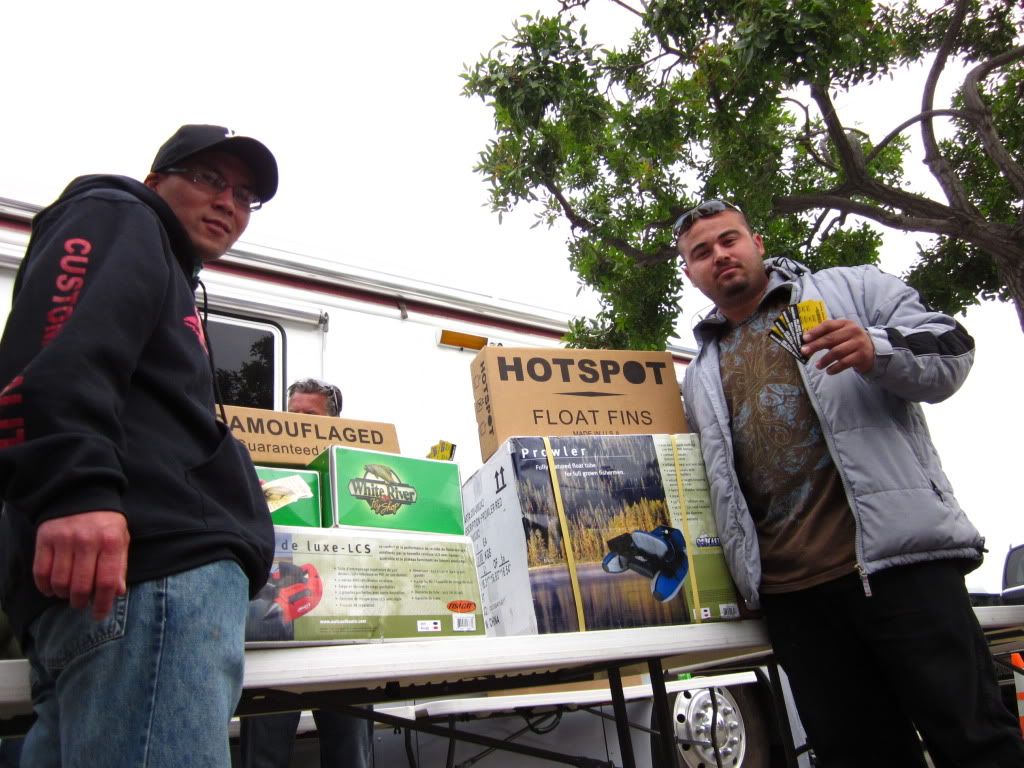 What a day, what a blast, and I can't wait to do it again! AND WE WILL!!!! I have a ton of video from the day and we are going to put something really cool together so keep an eye out! I have to run out of state for about a week but as soon as I get back, it's into the "production studio" (aka my computer desk in the extra room) for me!!
Again, A HUGE THANKS TO ALL OF OUR SPONSORS!!!! You guys made this event one that everyone will remember for a looooooooooooong time! Every single one of you was just amazing and I personally cannot thank you all enough. I want to send an extra special thanks to Doug Beard from Chronic Fishing. Doug quietly worked behind the scenes making contacts, gathering prizes, and doing everything he could to see this thing to fruition. Doug, you are the man! Now let's go kill some fish! I also want to send a HUGE thanks to Donna from Team 57 for everything she did for this event. We ALL know that Donna is amazing and my work with her on this event just made that even more apparent to me!! THANK YOU DONNA! I owe you big time!!!!!! The biggest thanks of all to EVERYONE at Santa Ana River Lakes for letting us do this and providing us with everything we needed to have a great time! Thank you for opening up your "home" so that we all can make this place our home as well!!!
And lastly, a MONSTER THANK YOU to all of you guys that came out! I had an absolute blast fishing and winning vicariously through all of you. Your kind words, handshakes, and the fun you all were sure to tell me you had mean the world to me! Plain and simple, we all fish because it is fun. Every time we are out there is an opportunity to forget everything stressful in our lives and create a memory that will last a lifetime. While I didn't put a single bend in the rod this weekend, you guys all gave me a lifetime "fishing memory" and for that I am forever indebted. So THANK YOU to all of you for letting me in on your fun!!!! And let's be sure to do this again….SOON!!!!!