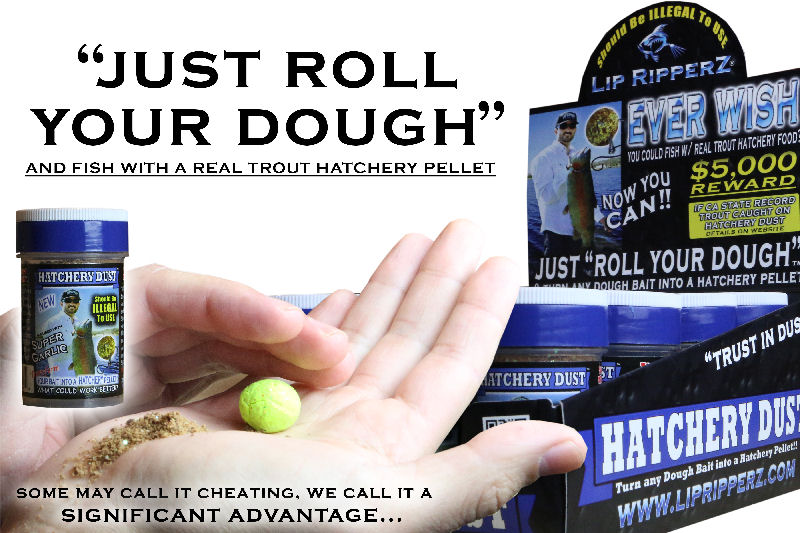 AVAILABLE AT CORONA LAKE, SANTA ANA RIVER LAKES & ALL MAJOR TACKLE RETAILERS
INTRODUCING HATCHERY DUST TM
EVER WISH you could fish with REAL Trout Hatchery Food?? NOW YOU CAN!! Just "Roll Your Dough" and turn ANY Dough Bait into a 'fishable' HATCHERY PELLET. Get ready to dust your competition with the all NEW Lip RipperZ HATCHERY DUST!! Makes the BEST BAITS even BETTER!!
Many years ago, dough bait was originally invented to imitate the flavor of real trout hatchery food. Simply put, stocked trout have been raised to feed on HATCHERY PELLETS their entire lives, know the taste and absolutely love it. As matter of fact, it's all they know!! The problem: real hatchery trout food only comes in the shape and form of a hard dry pellet, and there is absolutely NO EFFECTIVE WAY to stick it on a hook and keep it there, making it practically IMPOSSIBLE to fish with.
That is. UNTIL NOW…
INTRODUCING THE LIP RIPPERZ "HATCHERY DUST", an extremely POWERFUL and SUPER SECRET micro-powder used to Enhance and Supercharge all of your favorite Dough Baits. Simply "Roll Your Dough" into this specially formulated hatchery micro-powder and for the FIRST TIME EVER, enable yourself to fish with a REAL LIFE HATCHERY PELLET!! Now like fishing with a REAL trout pellet, you've TRANSFORMED your favorite trout bait into the BUFFET fish have been FORCED to feast upon their entire lives!! So effective in tests, SOME SAY IT SHOULD BE ILLEGAL TO USE!! I mean what could possibly work better? Well, there's more.
HATCHERY DUST is not just regular old trout pellets ground up into a powder, but a super concentrated secret formula, consisting of ONLY the powerful ingredients pertaining to the TASTE and SMELL trout have grown accustomed to their entire lives. Our team of scientists, at perhaps the largest Fish Feed manufacturer in the USA, have Formulated, Tested AND Constructed perhaps the perfect combination of ingredients into the PERFECT HATCHERY PELLET (dust); an exact science that simply CAN'T BE REPLICATED. That's right, all 'fillers' have been REMOVED and further SUPERCHARGED with ingredients and flavors that ACTUALLY MATTER. A total process taking FOUR LONG YEARS to be RESEARCH AND DEVELOPMENT!! Not only has this mix been REVAMPED and AMPLIFIED but has also been INFUSED with a top secret agent developed by our very own scientists, proudly named the "Blood Bite" flavored bait enhancers. A one of a kind, salty and EXCLUSIVE blood flavor set to trigger BOTH stocked trout and natural trout alike.
With HATCHERY DUST, you will probably be fishing with the most powerful bait you have EVER used. It's not rocket science to understand that it's the taste and scent on the outside of your bait, not on the inside, that makes a trout readily swallow it. Furthermore, it's the flavor and scent that milks off your bait in water that will draw in fish from even the greatest of distances. This plume of flavor and scent attracts fish to hunt for their favorite food. This is why it is important to re-apply HATCHERY DUST often to create that milking plume and attract more trout to your bait. Think of it as chumming, only surprisingly legal, and very effective. HATCHERY DUST also has holographic glitter, mimicking small baitfish scales in the water and will capture the visual attention of any nearby trout
PLUS with HATCHERY DUST, you will save money by wasting less bait. Just re-apply on your used bait and get it back in the water quicker. There is no need to change your bait every time you reel it in. ALSO, it helps mask the human scent and other odors trout HATE, increasing your odds of catching smarter and usually BIGGER trout.
HATCHERY DUST is a fantastic value because a little big goes a long way. It is super concentrated and will treat a lot of dough bait. As a matter of fact, a 1 ounce bottle can Supercharge up to six jars of dough bait!! You can also use it to scent plastics or to boost the effectiveness of sticky fish attractants, such as the Love Sauce, that you can apply to anything. One might think a product like this that has so many great advantages might cost a fortune, but in fact, the opposite is true. We have partnered with one of the largest fish hatcheries and purchasers of fish food in California and because of this, we have been able to have our special formula scientifically developed and manufactured at a great price. Without our buying power and industry connections, the formula would not be available and would be cost prohibitive.
HATCHERY DUST will be available in two sizes (1 oz and 3 oz) and powerfully infused with five EXCLUSIVE new flavors. For just about the price of any dough bait or attractant on the market today, you can supercharge anything you are currently fishing with, into probably the most powerful and effective bait, you have ever used.
Nothing has ever shown the brilliance to revolutionize or change fishing with dough bait the way HATCHERY DUST does. You'll "Trust in Dust" after your FIRST USE and NEVER fish without it again. Dust your competition with HATCHERY DUST!
For best results, apply often. Keep sealed and DRY in jar and use within 90 days of breaking seal to keep fresh. DO NOT mix HATCHERY DUST directly into your dough bait jar, or mix with any other bait or attractant that you do not plan on using that day. This is important because the natural nutrients in HATCHERY DUST, will overload the preservatives in whatever you mix it into, and likely cause it to spoil over time. It's that potent!! This is why we recommend that you shake a little into the palm of your hand then "Roll Your Dough" in the concentrated powder or only mix it into whatever you will use that day.